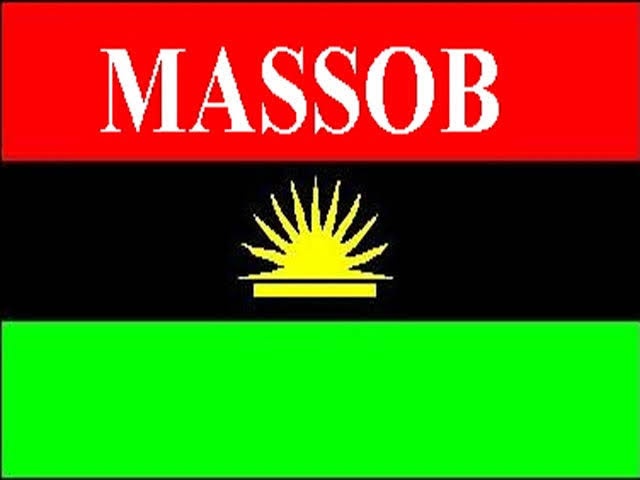 Movement for the Actualization of the Sovereign State of Biafra (MASSOB) have lampooned the Alhaji Yerima Shettima-led Arewa Youths Consultative Forum (AYCF) over his recent statement.
Shettima queried why Senator Ali Ndume should be remanded by the court for not producing Abdulrasheed Maina whereas his counterpart, Senator Enyinnaya Abaribe who stood as a surety for Nnamdi Kanu is walking free.
But reacting, MASSOB in a statement issued by its leader, Comrade Uchenna Madu said, "AYCF's stinking vomit against Senator Enyinnaya Abaribe is an expression of sadistic and tribalistic ethnic group in Nigeria. The northern youths are always a willing tools of destruction in the hands of their primitive leaders.
"Senator Abaribe's stand as surety to Nnamdi Kanu was totally different from the one Senator Ali Ndume stood for Maina Abdulrasheed.
"Maina was a corrupt criminal that shamelessly looted public fund when he was the chairman of the defunct National Pension Task Team. He laundered money mearnt for aged pensioners. He can never be compared with Nnamdi Kanu of IPOB.
"Senator Enyinnaya Abaribe's standing as surety for Nnamdi kanu was a unanimous decision of Ndigbo, it was not a personal venture. The baseless treasonable and felonious court case against Nnamdi Kanu is closed because Nigeria government knows they have no evidence against Kanu. Any attempt or arrest on Senator Enyinnaya Abaribe will be resisted by Ndigbo.
"MASSOB warns Alhaji Yerima Shettima led Arewa Youths Consultative Forum (AYCF) to stop their systematic and calculated plan to blackmail the personality of Enyinnaya Abaribe, Nigeria's most Distinguished Senator in the red chamber. MASSOB will never allow Arewa people to play their hypocritical game of pulling down the best leaders of Ndigbo because of politics."