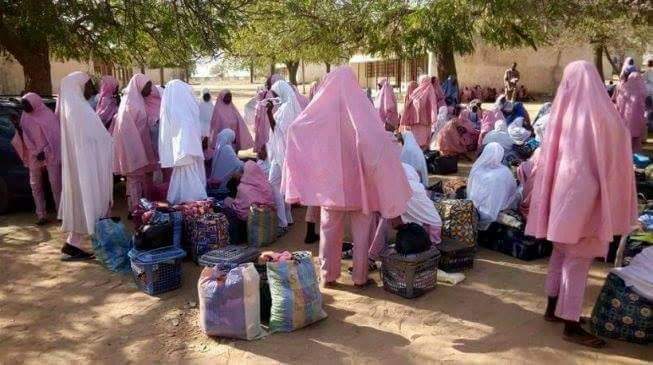 The swift Return Of The #DAPCHIGIRLS exposes so many things and raises many more questions than answer for the Buhari led, APC government.
First, it exposes the positive fact that the APC led, Buhari government are capable of confronting extreme hardcore terrorist either through negotiations or other means and extracting a good result from them. As we have just witnessed.
Secondly, it has helped in nailing home the suspicious analogy that APC has a good communication links with Boko Haram. The nation has just benefited from that good communication, which was what the Jonathan regime lacked. And, this wasn't basically because of lack of good communicators in the government of Ebele, it was basically because Boko Haram made it clear that GEJ was an infidel. They made it clear that ONLY under one condition will they listen to Jonathan: he becomes a Muslim.
A Muslim is there now and they have lived up to their boast by turning to listening terrorist. For the first time in history, hardcore extreme Islamic terrorists group saw reason, turned up their captives so peacefully, no ransom paid, no nothing, and quietly turn back to base. Guinness World Record take note.
Let's progress.
Again, the swift return of the #DAPCHIGIRLS as promised by the Buhari government is an evidence that this government can deliver on their promises, when they want to.
That raises some questions about the inability of the government to tackle the herdsmen killings that is spreading like wildfire across the nation.
The swift Return Of our girls through negotiations shows that the terrorist terrorising our lands and killing our people are not faceless after all. Our present government has a means of effectively communicating with them.
First, it was EL-Rufai, the governor of Kaduna going to negotiate with the terrorist that were and still are killing his Kaduna people, and giving them money to stop the killings.
Now, another negotiation has led to the DAPCHI positive result. This will tell you that indeed, the APC government has a good communication channels with the terrorist.
Now, looking at the reality on ground, you will not blame those who insists that The DAPCHI Girls kidnapping was a well scripted drama that allowed to run live, risking the lives of real characters in order to build a political capital.
There are simple question that anyone that believes the kidnapping wasn't stage managed have to provide answers to.
First, it is on documented record that the Nigeria Army and Police were duly notified about the movement of the Boko Haram convoy to Dapchi.
Five telephone calls were made to notify them of this, yet the refused to act or respond to it. Mind you, these phone calls was coming against the back ground of the Chiboke Girls, which was our first experience. So, pretending that such a thing will not happen is completely out of it.
In spite of the fact that the police and army were duly informed about the impending Boko Haram attack, operation lasted for over four solid hours without any challenge from any angle.
When Boko Haram landed at DAPCHI, they went about seeking for information and direction to the school. Imagine moving around town freely after information about their attack was made open to the right authorities.
Sequence to the kidnapping, why was military Checkpoints dismantled in such highly volatile zone? Even if there was no checkpoint, the fact that the police and army were duly informed about it, is a enough reason to rush and put on checkpoints. But, no. Rather, the ones that were there was ordered to be dismantled.
These are facts that has been established over the events that led to the kidnapping.
These are some of the reasons why majority of reasonable Nigerians are suspicious of their kidnapping and release.
In their attempt to impress, APC just indicted self and compounds their problem.
I can see why they delayed the official announcement of Buhari for second, they are faced with the reality that his first tenure is an unmitigated disaster. As result, they needed to create a drama that will make him popular. Anyone taking this drama too far from our politicians that can kill just to rule, is living a lie.
Those that scripted the Chiboke Girls did a far better job than the DAPCHI Girls script writers.
Fool me once, I am not fool, you rather betrayed the trust I imposed on you. Fool twice, am a fool.
The fool has said in his heart, Buhari has rescued the #DAPCHIGIRLS
They just set the stage for him to declare for second tenure.
©Peter Agba Kalu