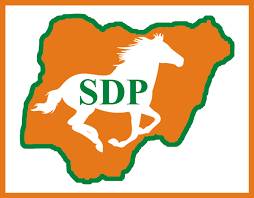 Over a hundred thousand people in Adamawa State have dumped the Peoples Democratic Party (PDP), and the All Progressive Congress (APC) for the Social Democratic Party (SDP).
National Chairman of SDP, Chief Olu Falae stated this Wednesday during the official decamping rally of Chief Emmanuel Bello to SDP at the Lamido Cinema of Adamawa State.
"I have come to receive Chief Emmanuel Bello and a hundred thousand others who have dumped APC and PDP to join SDP from today they have become a bonafide member in the state.
"SDP has been in existence since the year 1982 during Abiola and Kingibe's regime adding that Bello is a man who believes in Changing the Change," he stated.
Speaking at the rally, John Nuhu said the 100,000 that dumped APC and PDP to join SDP were from the local government areas of Yola-North has 2500,Gombi 10,000, Song 10,000, Hong 5,000. Fofure 3,000, Demsa 10,000. Numan 10,000, Lamurde 10,000, Guyuk 10,000, Shelleng 5,000, Jada 10,000, Ganye 10,000, Mayo 20,000, Mubi-North 10,000, Mubi-South 10,000, Michika 10,000, Madagali 10,000, Maiha 5,000, Gerei 5,000 and so on.
Also speaking, National Leader of the SDP, Professor Jerry Gana said this was the first outing they had made in the year 2018, adding that the party was moving to make Nigeria better.
Another National Leader of the Party, Professor Tunde Adeniran added that SDP was going to move the country forward.
Daily Times