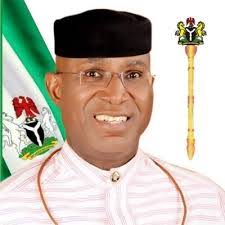 Following the suspension of the senator from Delta state, the Urhobo people of Delta State have dragged the Senate before a Federal High Court sitting in Abuja, over the suspension of their kinsman, Senator Ovie Omo-Agege from the red chamber.
His investigation by the Senate Committee on Public Petitions, Ethics and Privileges was due to his  comment on the reordering of electoral timetable, an act the senate views as an affront against the red chember.
According to the report submitted by the Committee Chairman, Senator Samuel Anyanwu, the committee explained that the erring lawmaker declined to speak to the committee when he appeared before them.
The committe which was dissatisfied by the action of the lawmaker recommended for his suspension for 90 legislative days.
The plaintiffs, Chief Alfred Okaka, Mr. Chris Agaga, Mr. Kingsley Okrikpo, Harrison Akpojarho, Manny Edu, Lyndon Ugbome, Moses Adegor and Godspower Emowhomuere, are praying the court to hold "that the rights of the people of Delta Central senatorial district to an unfettered representation in the legislative business of the Senate by Senator Omo-Agege constitutionally guaranteed for a tenure of four years cannot be abridged, diminuted, suspended, abrogated and or vitiated, except as stipulated by the 1999 Constitution (as amended.)".
Defendants in the suit are Senate President, Bukola Saraki, Deputy Senate President, Ike Ekweremadu, the Clerk of the Senate, the Department of State Services, the Attorney-General of the Federation, Inspector- General of Police and Senator Omo-Agege.
They also want the court to declare that, "under the 1999 Constitution (as amended), the plaintiffs' elected senator (Omo-Agege), representing Delta Central senatorial district cannot be made to vacate office other than as provided for by sections 68 and 69 of the 1999 Constitution (as amended).
"A declaration that the Senate has no power under the 1999 Constitution as amended to suspend from office any senator and in particular, the 8th Defendant representing the Plaintiffs and other constituents of Delta Central senatorial district in the Senate."
@Dailypost