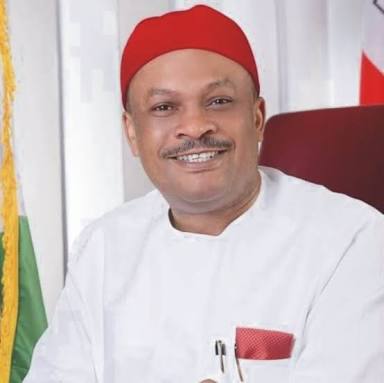 More revelations have emerged on the undercurrents and conspiracies that instigated the sudden summersault of Senator Samuel Anyanwu, representing Owerri East Senatorial Zone to vie for governor, weeks after his formal declaration to seek reelection to the Senate for a second term.
This development (guber ambition) with its attendant mixed reactions has caused some stir across the state, putting the Peoples Democratic Party, the PDP, on the front burner, with many wondering what must have gone wrong or caused this sudden change of mind.
While political watchers believe it is the constitutional right of Senator Sam Anyanwu to seek to occupy the Peoples House, many believe there is more to it than mere ambition, even they describe it is as, "an ill fated ambition that is dead on arrival", insisting that Senator Anyanwu's sudden governorship ambition is a sponsored attempt to instigate crisis in the PDP with a view to whittling its strength to challenge the Governor Rochas Okorocha led APC government in Imo State, accusing Governor Okorocha of being behind Senator Anyanwu's declaration. Investigations have given credence to the later.
According to an impeccable source who is privy to the pans, "I can confirm to you that there is a connection between Senator Samuel Anyanwu's governorship ambition and Governor Rochas Okorocha's government. There is a robust understanding between the duo that has existed since 2011. People don't know that Owelle has always been very close to Samdaddy even before he came into power in 2011. But they got closer when Owelle won and they have had a good working relationship with mutual confidence and I can tell you that they have a lot of secrets together. It is a known to some us who are very close to the Owelle.
"You will recall that Sen. Anyanwu, Hon. Simeon Iwunze and Hon. Ikenna Emeh were his hatchet men in the House. The governor used Samdaddy very well to carry out so many things not only in the House but in the government. Don't forget the role he played with Hon. Simeon Iwunze during the impeachment of Chief Jude Agbaso, Owelle's former Deputy Governor. Do you think Agbaso did anything wrong? I weep for the young man. The way he was criminalized and humiliated out of office by Samdaddy and Simeon just to satisfy Owelle make me wonder where conscience has gone travelled to.  It was after the impeachment that the governor rewarded Samdaddy with road contracts worth over One Billion Naira (N1,000,000,000) for a job well done. Whether he did the jobs is what I can't say because I'm not from Ikeduru during the campaigns for the 2015 general elections, Owelle told Ikeduru people that they should ask Samdaddy what happened to the Billions he gave him for their roads. It was later that I learnt that both of them had issues over some transactions Owelle asked Samdaddy and Stan Dara to handle on his behalf in Turkey. I don't know the details but it's as if they cornered his money or something but the Speaker Uwajumogu waded in stopped what would have been the biggest embarrassment to the government."
Meanwhile Samdaddy is yet to deny the allegation that Owelle funded his senatorial election and that they both had understanding to sabotage Emeka Ihedioha in the governorship election. This game worked as Ihedioha not only lost Samdaddy's polling unit, ward and LGA but his entire election strategies were sold to Owelle and he lost the elections.
Probing further, another source who pleaded strict anonymity because of his closeness to Senator Sam Anyanwu, described his governorship declaration as a betrayal against Emeka Ihedioha who not only singlehandedly gave him PDP ticket but ensured he was delivered during the elections despite opposition and his efforts to win the structure for the Imo State PDP. The game plan to draft Samdaddy into the governorship started after he had a secret late night meeting with Rochas at his guest house behind New Owerri police station, beside Imo State House of Assembly early January this year. You know Owelle is a game man. He wants Samdaddy to divide the party and then cross over to APC to collect the senatorial ticket. By then he would have succeeded in upsetting the party and damage PDP's chances.
This position was recently affirmed by Onwuasoanya Jones FCC, an aide of the government and a close confidant of the governor's son inlaw Uche Nwosu who is also the Governor's preferred successor. Onwuasoanya on the 18th of March, 2018 in a post on facebook titled The SAMDADDY SALLAD; he wrote:
"THE SAMDADDY SALLAD
People may not know how happy I am with the entrance of Senator Samdaddy into the PDP governorship fray. I am not just excited with the fact that Samdaddy is going to box Chief Ihedioha to a very uncomfortable corner, I am also happy because Samdaddy's entrance to the game adds to our advantage to a great extent. However, you can take it to the bank that Samdaddy is not actually running for governor. He is looking to shore up his senatorial chances with this governorship distraction.
Samdaddy's declaration for the governorship is a political salad that will definitely turn the stomach of Chief Emeka Ihedioha and keep him so dehydrated from constant visits to the toilets that if he eventually manages to get the PDP governorship ticket (which is still likely, though), he will not know whether to use the ticket to return to his air-conditioned toilet in Aro Mbutu or to save himself further trouble by throwing the ticket away.
On the other hand, this political salad is the type we have prayed and hoped for for a long time. We are already salivating over that salad because it adds more petrol to our already cruising project. This Samdaddy salad is one of the things we had planned and hoped for since the beginning of this race and it has been served to us earlier than we even hoped, to God's glory.
Take this to the bank; by the time the 2019elections commence and ballot papers are printed, Senator Samdaddy's name will be on the ballot for Owerri Senatorial contest and not for the governorship, and this is most likely under a different political Party outside the PDP. However, the Mbutu Chief would have been so bruised that he would be wondering if his expertise in political maneuvering is still relevant in the emerging political system."
The piece above cannot be wished away. It is the position of government.
Another lead to this connection is Chief Willie Amadi, former PDP Zonal Chairman for Owerri who is Sen. Anyanwu's Campaign Director General who was present during the inauguration of the Umuorurunjo Youth Chairman, in Owerri Municipal. In a video of the event that went viral in the social media, Uche Nwosu confidently recognized and presented him to the people of Owerri, as "Onye agburu anyi", meaning, "member of our inner caucus". The governor's son inlaw, emphasized this fact as he drew the attention of the Majority of the Imo State Assembly to take appropriate notice. This incident has continued to cause anger and confusion in PDP and within Owerri Village because Willie is known saboteur and double dealer. Willie Amadi has also been accused of selling former Governor Ikedi Ohakim's government to Rochas in 2011. The way and manner he handled Ohakim's reelection has left more to be desired.
He was recently accused of selling classified documents to Governor Rochas containing details of how former Governor Ikedi Ohakim planned to demolish Ekeukwu Owerri when reelected. It was this leakage that energized the government to finally demolish the market. The same fate Ohakim had was the same Hon. Emeka Ihedioha had when he appointed Willie Amadi as his Special Assistant on Environment.
Another pointer is that Uche Nwosu and Simeon Iwunze at the instance of the Governor, visited Samdaddy during his reception organized by his community. Sources said, the trio spent almost 2 hours in his bedroom upstairs before proceeding to the venue of the event. It is suspected that, that was where the governorship plan was hatched. Samdaddy's political godfather, Chief Emmanuel Iwuanyanwu has also been fingered in the plot. It was revealed that the nomination of his first son, Jide Iwuanyanwu as Commissioner by Governor Rochas Okorocha was part of the deal to also canvass for support for President Buhari but Iwuanyanwu rejected his son's nomination few weeks after PDP members raised alarm on his romance and appointment.
It is also on record that Senator Anyanwu has attended all the functions organized by the Governor, his wife and their son inlaw Uche Nwosu where Rochas has proudly described Senator Anyanwu as his son, in whom he is well pleased and in whom also he has so much confidence. The relationship is so close that Samdaddy has never criticized Okorocha on any policy. Except on the demolition of Ekeukwu Owerri which he had no choice than to join the various leaders who condemned the action.It remains to be seen, how far this conspiracy can go to achieving their intended goal. The days ahead promise to be very interesting.