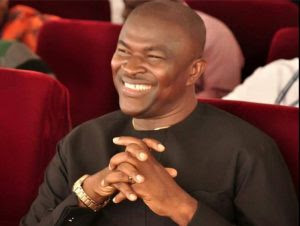 A socio-political group in Enugu State, Nsukka/Igbo-Eze South Gburugburu Canvassers, formed to drum up support for
the re-election of the Enugu State Governor, Rt. Hon. Dr. Ifeanyi Lawrence Ugwuanyi, has called on politicians to stop distracting the member representing Nsukka/Igbo Eze South Federal Constituency, Rt. Hon. Dr. Pat Asadu, with the 4th term bid politics so that he will concentrate on his legislative engagements and continue to represent
his constituency effectively.
The group made the statement through a release signed by its Coordinator, Comrade Willy Ugwunweze maintained that Asadu does not need the distractions making the rounds in the media space.
The group explained that Asadu who is chairing one of the most important committees at the House of Reps, 'House Committee on Ports, Harbours and Waterways and also a key member in health related committees', was presently faced with the burden of meeting up with the demands of rendering quality services at the green chambers and uplifting the welfare of his constituents.
They said that legislative business was more like an academic exercise which demands adequate concentration to enable one give his best and attract dividends of democracy to his people.
The group, while commending Dr. Pat Asadu on what they described as 'effective and efficient representation' at the national assembly, said that at the appropriate time they would champion a meeting of stakeholders of Nsukka and Igbo-Eze south LGAs respectively to address the issues surrounding the alleged 4th term bid making the rounds in the media.
"Whatever it will cost us to maintain peace in our federal constituency we must because we are one family. At the end of the day we are all going to win because we are one and indivisible people and God is involved in whatever we are doing.
"We are not going to take anybody for granted because God is behind us and we are sure of where we are going." They maintained.
While maintaining that they were satisfied with his representation in the past 12 years, the group said that, "He has so far sponsored not less than ten bills and several motions, including a Bill for an Act to amend the River Basin Development Authority Act; A Bill to repeal the Nigeria Ports Authority Act; A Bill for the establishment of Forensic DNA Database in Nigeria; A Bill to establish the Federal College of Dental Technology and Therapy to provide for courses leading to the award of degrees, The University of Nigeria Nsukka amendment Bill and the recently well celebrated bill to create a Federal University of Technology out of the present IMT, Enugu.
"We can also authoritatively confirm that there are several motions to his credit. Dr Asadu is celebrated amongst his colleagues and so respected that none of his bills or motions have ever been defeated or negated since his election into the House.
"The villagers are still seeking God's blessings upon him for the consistent free medical programme carried out by Asadu that has treated those who are not able to pay medical bills to treat complicated medical problems.
"He has been consistent in carrying out empowerment programmes, Free Medical treatments, giving scholarship grants to indigent students from within outside Nsukka/Igbo-Eze South federal constituency; he has secured employments for many youths from his constituency etc.
"It is on record that Asadu's performances within the period he has served the people of Nsukka/Igbo-Eze South at the House of Reps cannot be compared with those who held the position in the past in his constituency and his achievements are out there for people to see.
"As regards constituency projects, Dr. Asadu who is a lover of education championed the construction and reconstruction of administrative and lecture rooms to ensure the smooth take off of the National Open University in Opi study centre, renovated structures at the Ovoko Boys Secondary school among other numerous educational development programmes in his constituency." They explained.
Written by Jonathan Emmanuel