The Rivers state judiciary complex was today attacked and shut down by hoodlums numbering over 100 suspected to be from a faction of the APC in the state.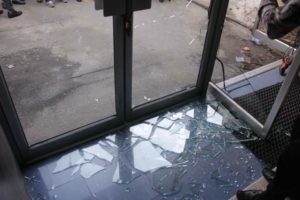 The thugs were said to have stormed the complex very early this morning and locked up all entrances leading to to the complex, beating up lawyers and other people who tried to gain entrance into the facility, while the police looked on.
It was gathered that the irate youths were said to have been sent to stop the court from sitting so it will not stop the Local Government Congress of the party scheduled to hold on Saturday.
Worse violence was said to have erupted when another set of youths suspected to be from the PDP stormed the facility to unlock the complex of which the two groups attached each other's with dangerous weapons, thereby destroying properties leaving the police with no option that to shoot sporadically into the air to scare them away.