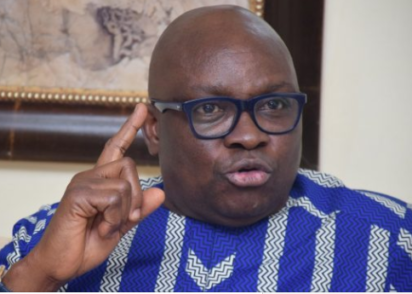 The Governor of Ekiti state, Peter Ayodele Fayose have alleged that their are sinister plots by the All ProgressiveCongress APC members in the state to kill people in the state and frame members of PDP in the state up for the act.
According to the Governor, a meeting was held yesterday in the home town (Isan-Ekiti) of Kayode Fayemi, the flag bearer of APC candidate in the July 14th Governorship election in the state.
In the meeting, a known cultist in the state "Agbara" was said to have been contracted to execute the evil plan of killing people in the state and dumping their corpses in Fajuyi Park and the homes of some PDP Chieftains.
The governor said; "This alarm has become necessary because of a meeting that was held yesterday, in Isan-Ekiti, the hometown of Dr. Kayode Fayemi, the flag bearer of the APC in the July 14, 2018 governorship election.
"They have hired one Agbara to kill one or two indigenes of Ekiti and dump their bodies in the houses of PDP leaders, Fajuyi Park, in Ado Ekiti or near the government house. This is an attempt to link me and my party with killings.
"This new plot is as a result of the failure of the plot to link me with the shooting of Hon. Michael Opeyemi Bamidele (MOB) and others by a policeman at the APC secretariat on Friday.
"We take exception to this sinister plot as we will not be a party to violence act. Ekiti has been peaceful in the last three and half years, we want to keep enjoying this peace and will not want it disrupted because of politics. Our ambition is not worthy of the blood of any Ekiti indigene.
"We therefore call on the police and other security agencies to be vigilant and Ekiti people to please be watchful. Your life and my life will not be used as sacrifice for this election.
"I want to plead with everyone to please take note that violence is not an option. I also urge the federal government to take necessary steps to safe Ekiti from further crisis."
This is coming shortly after a member of APC Hon. Opeyemi Bamidele and five others were shot by a policeman that was brought from Lagos State to guard another APC chieftain.
Vanguard