The judge who denied Olisa Metuh's request to travel abroad for medical treatment has granted an ex-public official, accused of worse corruption, permission to travel abroad to see his family.
By Nigerian law, granting of such permissions is usually at the judge's discretion. But the actions of Justice Okon Abang has caused some Nigerians including a Senior Advocate of Nigeria to raise eyebrows.
On Wednesday, Mr Abang granted permission to Alex Badeh, Nigeria's former chief of defence staff, to travel abroad to see his family.
Mr Badeh is accused of misappropriating about N3.97 billion public funds while in office. He was charged before Mr Abang in 2016, same year Olisa Metuh was charged before the jugde for receiving and allegedly diverting N400 million (about 10 per cent of Mr Badeh's sum) from the former National Security Adviser, Sambo Dasuki.
Mr Metuh's charge of seven-counts was filed in January 2016 while Mr Badeh was arraigned in the same court on a 14-count charge in March that year.
Both men, Messrs Metuh and Badeh, who are being prosecuted by the anti-graft agency, EFCC, have denied any wrongdoing and are defending themselves in court.
Mr Metuh was subsequently granted bail with a bond of N400 million which will be remitted to the court in the event the defendant attempts to jump bail.
Mr Badeh on the other hand was granted bail with a bond of N2 billion, which his sureties equally risk losing if Mr Badeh attempts to jump bail.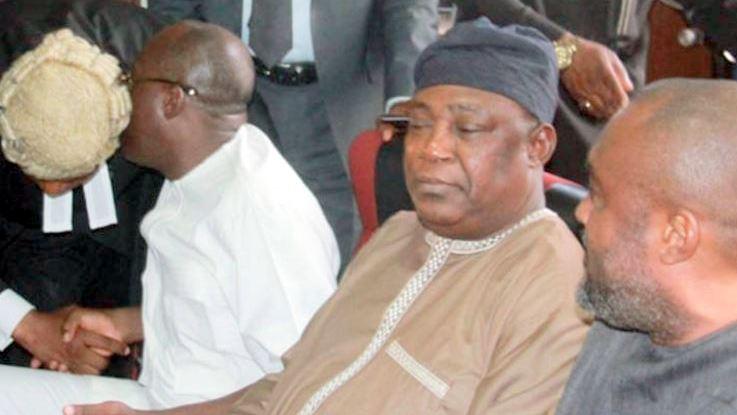 While Mr Metuh's trial has since reached the defence stage, Mr Badeh's case was restarted on Wednesday following his re-arraignment.
Shortly after his trial began in February 2016, Mr Metuh informed the court through his lawyers that he was suffering from spinal cord injuries and requested a permission to travel abroad for a five weeks medical vacation.
That request was refused by Mr Abang who ruled in May 2016 that Mr Metuh had not provided sufficient evidence to justify his claim that the spinal cord injuries could not be corrected in teaching hospitals across Nigeria.
The judge further said his court's decision to withhold Mr Metuh's international passport could not be overturned by the same court.
According to Mr Abang, his court could not sit on appeal on its own decision.
After that initial request, Mr Metuh's lawyers led by Onyeachi Ikpeazu made repeated applications for Mr Metuh to be allowed sufficient time to attend to his health.
In a dramatic event in February, Mr Metuh was brought to court on a stretcher after his lawyers said the defendant defied medical advice and insisted on attending the trial.
After Mr Metuh's appearance on a stretcher, his lawyers presented another request for a prolonged adjournment with a medical report signed by a doctor from the Nnamdi Azikiwe University Teaching Hospital in Anambra State. According to the report, Mr Metuh suffered a deteriorating effect on his spinal cord, after he fell at an event in Umuahia, the Abia State capital.
Mr Abang refused the application and warned the defence to desist from appearing before his court with a medical report from any Nigerian hospital.
After that declaration, Mr Metuh's lawyers brought another request for their client to be allowed to attend his health in a London based hospital. The medical report was signed by a doctor from the United Kingdom based hospital.
That request was also refused by Mr Abang who faulted the failure of Mr Metuh to appeal his (Abang's) May 2016 decision refusing the defendant permission to embark on a similar trip.
On Wednesday, however, Mr Abang granted a request made by Mr Badeh's lawyer, Akin Olujimi, for his client to travel abroad to visit his family and friends. According to the EFCC, Mr Olujimi's application was for his counsel to go to the United States on vacation.
The EFCC counsel, Rotimi Jacobs, did not object to the application, the commission stated in a statement sent by its spokesperson, Wilson Uwujaren, to PREMIUM TIMES.
Mr Jacobs, however, raised concerns that the application "did not address the duration of time the defendant intends to stay abroad" and "no tangible reasons like health issues" specified.
"In view of this, the surety should sign an undertaking to guarantee that Badeh would return in time to face his trial," said Mr Jacobs.
The judge, therefore, granted the application and ordered the return of Mr Badeh's passport to enable him travel.
While adjourning Mr Badeh's trial to October 22, Mr Abang ordered that "the surety's passport should be deposited with the court registry and he should sign an undertaking to ensure the defendant's return on or before September ending, 2018," the EFCC quoted.
For Mr Metuh, his trial, which was earlier slated to continue on Thursday, was adjourned till Friday, following a request by a defence counsel.
REACTIONS
While speaking on Mr Abang's rulings, Chijioke Okoli , a Senior Advocate of Nigeria, described the decision to allow Mr Badeh travel abroad to see his family as "curious."
"Well I wouldn't want to draw any conclusions since I don't know the facts of the case and would not like to be quoted out of context," the senior lawyer said.
"But if really the judge granted permission for the former defence Chief to go and visit his family, despite his trial, then I think that is curious.
"Any reasonable person would expect that his family should be the ones to visit him since they can have unfettered access to him. Besides I believe his family must be Nigerians, so why can't they come down?
For public affairs analyst, Taiwo Adebowale, corruption allegations against Mr Badeh are worse.
"Well I don't have personal sympathy for Olisa Metuh. If he has committed fraud then he should face the full rot of the law," Mr Adebowale said.
"But the issue of letting Badeh travel is what I don't understand. Badeh was accused of committing an even greater fraud than Metuh.
"He was the Chief of defense staff. The allegations he is been tried for are part of the reasons why terrorism is still with us in Nigeria today. So what is the reason for such a permission?
"As for Metuh I would have expected that he appeals the decision refusing him permission. Because there are procedures to go about this thing. Even if the court thinks he is likely to jump bail, we can enter into an agreement with his proposed country of asylum to ensure that he returns to face his trial.
"So I think the judge may well be considered as taking the matter a little too personal with Metuh," he said.
Premium Times