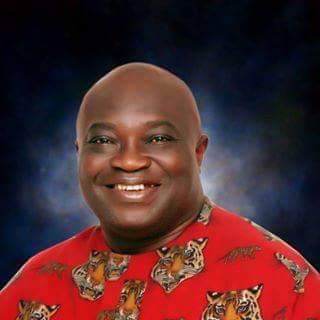 I don't always hate people but when I do it is final. I resent Dr Okezie's character. His indifference, to statutory protocols and decorum, piss me off. Although he possesses a resplendent mien but his attitudes, at times, could seem lustering. Okezie has desecrated the altar of royalty hence should retire to "ebe ikpofu Ahihia"(refuse dump), of course, where he came from! Why must he indulge in acts inimical to nobility? Why must he pretend to be more righteous than the Pope? Why must he be so gentle to allow the fly perch on his scrotum? Why the humility? Why the forgiving spirit? Okezie has defied every known rule of Power. Gbam!
First, on ascension to the exalted seat of power, Dr Okezie disregarded the status quo and striped himself of the most valued, of all the, paraphernalia of power. He warned that he should not be addressed as 'His Excellency'. Can you imagine that? What is governor without "His Excellency"? Why should our own be different na? Others before him answered His Excellency! Even those EFCC once declared wanted! Is it only him that will not answer His Excellency? Does he even know it is our right?
As if that is not enough, he reduced the number of utility vehicle in his convoy and also the volume of his siren! Of what use is an Alsatian dog if it cannot bark? Does our Okezie not know that long convoy with deafening siren are political accompaniments? They show he has arrived. 'Ahu Dimkpa ahu ogologo imi ya'(A brave man is known by his pointed nose).
I also heard he rejected a bullet proof car simply because it will deny him the opportunity of exchanging pleasantries while on motion. Tufiakwa! 'Wetin concern Agbero with overload?'. Must he always shake hands with those poor folks? Does he even realize he is the Governor of Abia State?
Okezie should know he is a big boy! I love the Ogas' across,they no send you o. Who born you to shake hands with you? Can you even come any close to their bullet proof cars? Some of them are already honorables' and have seen themselves, in prophetic hallucinations, answering his Excellency. Na men wey sabi na! You dey envy them? Can't you see their swag? The other day, during the debate, it was only my brother Okezie that wore very cheap Aba made shoes while his opponents wore correct Italian shoes. Have you driven pass their convoy? No be here o!
The one that got me very angry was just recently, when Sai Buhari visited Abia State. Dr Okezie allowed him and his people to, dare, enter the Enyimba stadium! What! To add salt to injury, he even received them and was laughing around with them! In fact that Oga that planned coup against him was even around there. What kind of rough play is that? Has Governor Victor not heard that the bible says that you should not suffer the witch to live and prophet Samuel defines a witch as a rebel, and a rebel is one who opposes constituted authority! So, you can understand why he should not have anything to do with those witches and wizards in high places! But Oga Okezie will never hear. His 'I don care' is too much. He will be laughing with everybody, even his enemies! I thought he will give them teeth for their tat! Do me I do you God no go vex! He believes so much in that his 'mumu' song 'obughi mu ji owem o , amara ya jim aka!(the grace of God upholds me). Whatever that means! Na only him dey go Sabbath? Afterall, the other man na Sabbath man too -but sha, they say his own Sabbath is different because the wife dey wear ear ring.
Back to the venue issues. Why did the governor allow his enemies' access to such a befitting stadium that he suffered, amidst persecution, to build? If it were some of his neighbor- governors, they would have done everything to stop them. First they will declare them personae non gratae. If that fails, the gate keeper will disappear with the keys to the stadium .If they attempt to break in, they will mobilize all rain makers to invoke tumultuous hail storm.
What I am saying is that the governor, under no condition, should not have allowed the Egyptians of yesterday to visit him today. Never! What kind of humility is that? 'Agu o gamuru nwa ujo'? (Has the Lion given birth to a coward?) Now he is already paying for his meekness. They say he is supporting Buhari's second time. Ntoo!
Governor Okezie's sins against me are too many. Have I talked about his too much dependence on God as if God alone can help him win election in Nigeria. Let him continue preaching sermon and attending prayer meetings while men wey sabi road don find their ways teete! I dey laugh!
Okezie wake up! You hear? Leave this your church thing, no bi the way. Abeg, oga, follow men wey sabi!
Ehn, before I forget. Do you know that Dr Okezie still answers unknown calls? I did not believe it until I called him, to my greatest surprise he answered me. I jolted to my feet! You mean this man still answers ordinary peoples' calls. Na wa o Governor! How dare you call these other men! You no dey fear? Would they even answer you? But Governor Okezie is always different and that is why I hate him.
Anyway, I have taken my decision. I will ensure he is re-elected, may be, he will learn his lessons and be wiser. Because he has utterly disappointed me, I suggest, he will be re-appointed for a second term, may be, he will change, for the bad! Yes I want him to become a bad guy that will not tolerate nonsense from any 'baga'.
But will Dr Victor Okezie ever change? He won't change. I trust him that is why E GO GO AGAIN!