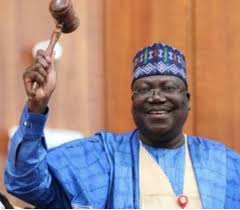 A group of young men who felt shortchanged by the actions of the Senate President, Ahmed Lawan has taken their compliant to the media.
The lamentation which is coming so fast after the Senate President announced the appointment of some of his aides had the young people in the video below questioning their support for the Senate President.
They maintained that "the devil must be celebrated for doing a good job in turning the Senate President we brought in against us so soon and fast. When the Senate President we supported with our heart and worked for wholeheartedly will start supporting the enemies of the government, those of the party and president Buhari.
"We may never know all the reasons behind the inexplicable appointments made by senate President Lawan.
"However, we do know that every minute since the announcement of the appointments, many front line party leaders members and large number of young people in the party have kept asking if Senator Ali Ndume was right after all for insisting he was better than Senator Ahmed Lawan" they concluded.
Watch the video below;