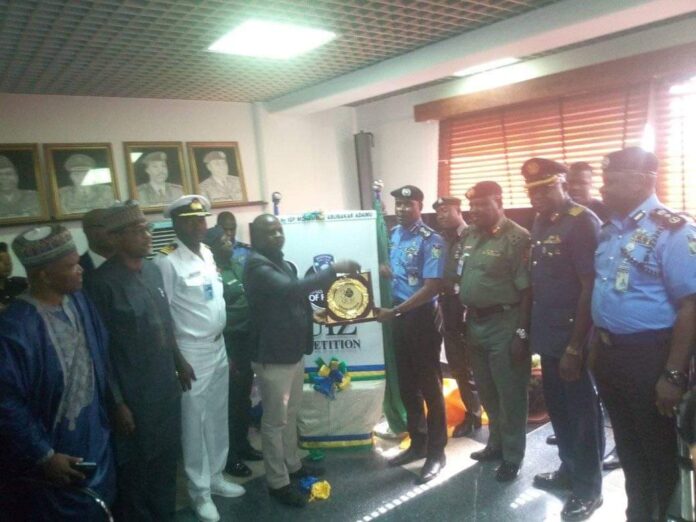 The Inspector General of Police, IGP, MOHAMMED ADAMU, has commended the steady stride of Police Campaign Against Cultism and Other Vices, POCACOV in his quest for effective Community policing through student and community reorientation against cultism.
IGP Adamu made the commendation during the unveiling of a logo ceremony of "30 minutes IGP quiz competition" at the force headquarters, Abuja recently.
The Police boss said that POCACOV initiative targeted at students is living up to its responsibility and is already making positive impacts across the States of the Federation.
He emphasized that POCACOV programme and other programs targeted at students are not in isolation but component parts of the big picture, which is, Community Policing with the sole aim of ensuring a safer Nation.
POCACOV which was listed as one of the grand achievements of the IGP in the chronicle of his one year in office is the initiative of the police Chief which promotes the engagement of the community and relevant stakeholders in the campaign against cultism and it's related vices.
The programme is expected to garner more momentum after its national launch by the IGP in Abuja, on the 12th of March, 2020.
Speaking on the forthcoming national launch, the National Coordinator of POCACOV, CSP, Ebere Amaraizu said that POCACOV is in tandem with the tenets of community oriented policing and he's certain that the aims and objectives of the programme will be holistically achieved across the country.
CSP Amaraizu said POCACOV's approach is uncommon as the use of force is alien to it as its strictly based on advocacy and encouraging the youths to shun cultism and "Be A Champion!" which is the motto of POCACOV.