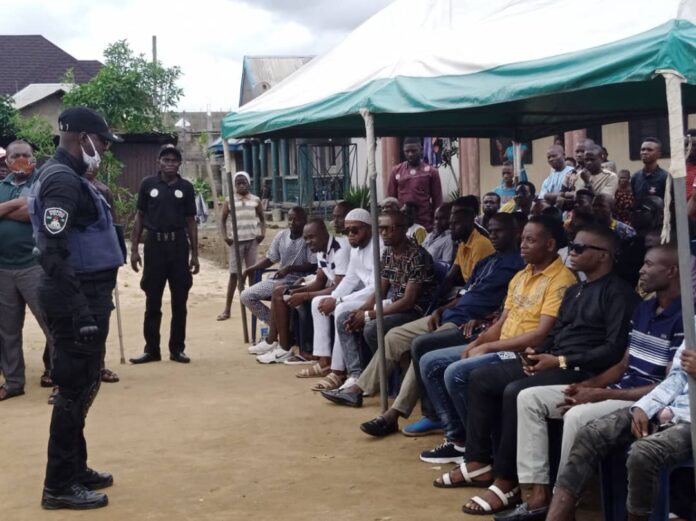 Ahead of the upcoming Police Campaign Against Cultism and Other Vices (POCACOV) stakeholders Summit for Rivers state and following the intensification of the Nationwide Campaign Against Cultism and other vices by the Nigeria Police through POCACOV, some suspected members of deadly cult groups numbering about sixty eight from ICELAND CULT GROUP AND DEGBAM CULT GROUP have embraced peace by renouncing their membership and also laying down their arms in order to become better citizens and also to contribute their quota in the Nation Building ,growth and Development.
In an epoch making event which took place on 12th June,2020 at Ogbakiri in Emohua Local Government Area of Rivers state and in the midst of some heads of other security agencies, Divisional Police officer Rumuji and community members and stakeholders, 25 members of Iceland cult group and 43 suspected cult members of Dreaded DEGBAM Cult group denounced their membership, surrendered their weapons and offered to become better citizens.
DSP Yusuf Abdullahi, the commander, Anti Cultism Unit Elele Zone and the POCACOV Coordinator, Rivers state while representing the National Coordinator, CSP Ebere Amaraizu thanked the repentant Cultists for taking the bold step and offering to become better citizens towards contributing their quota in the National Development and Growth and admonished them not to go back but to remain steadfast in the step taken.
He also disclosed that what is taking place today is the essence of POCACOV Initiative by the Nigeria Police Force. "We are preventing people from joining the bandwagon and at the same time, offering olive branch to repentant ones with a view to making them a better citizen."
He assured that the Anti Cultism Campaign have been intensified ahead of upcoming Rivers state POCACOV Summit within Rivers state and its environs and with a view to preventing children/youth from joining and at the same time, bringing back to the society, those that have joined through Advocacy, Awareness and sensitization, Town Hall meetings,re-orientation programme amongst others in line with the community oriented policing tenets.