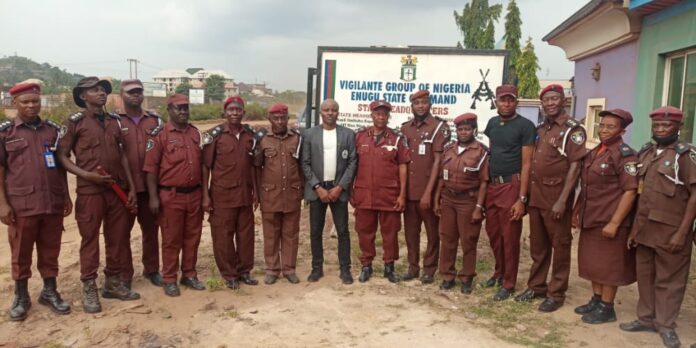 The Police Campaign Against Cultism and Other Vices, POCACOV has expressed their readiness to partner with Vigilante Group of Nigeria, VGN to help deepen their campaign across the country.
Speaking with some selected leaders of the group in their Enugu office, on Tuesday, 25th August, the National Coordinator of POCACOV, CSP Ebere Amaraizu thanked the officers for their efforts in ensuring the security of the state stressing that "security is everyone's business".
"The work of POCACOV is to interphase with all stakeholders to ensure a peaceful atmosphere," Amaraizu emphasized.
Going further, he said; "At POCACOV, we galvanize the support of people like you to reduce cases of cultism, drug abuse, kidnapping, etc."
Amaraizu also disclosed that POCACOV is a different and an entirely new initiative of the current IGP M.A Adamu that doesn't involve the use of force but advocacy, dialogue, re-orientation and other non-forceful means.
He also enjoined them to key into POCACOV as it's built on the tenets of community policing which will ensure that they are involved in the policing activities of their area.
"Community policing is all about consciousness for a better society. What your neighbour is doing concerns you in one way or another thus, why you must be involved.
"POCACOV hasn't come to cast aspersion or condemn anyone but to look for a local solution to the problem inherent in various communities and they do this by engaging various stakeholders in the area.
In checkmating the rising cases of crime in the society, Amaraizu advocated a return to some old African traditions that promotes better behaviour.
"There's need for us to go back to the old African tradition when every child is everyone's child because abandoning this tradition is the root of the decay in the society and our value system has been debased as a result."
The State Commandant of VGN, Joseph Ike Asaa in his remark appreciated the National Coordinator of POCACOV for the kind gesture and assured that the group will be willing to work with POCACOV while they continue to do what's right to promote peace in their various communities.
He also thanked the Inspector General of Police for the beautiful initiative.