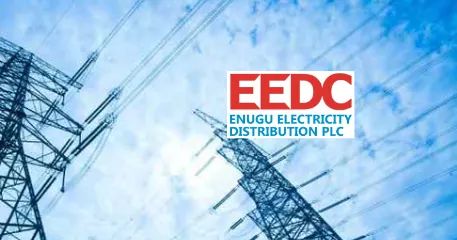 The Enugu Electricity Distribution Company (EEDC) has explained the reason behind the loss of power supply in some parts of Umuahia, Abia State, attributing it to the activities of vandals.
According to a statement by EEDC's Head of Corporate Communications, Emeka Ezeh, "the loss of power supply currently being experienced is as a result of activites of vandals who removed seven (7) spans of aluminium conductor at Osusu on the 13th of September, 2020 and ten (10) spans along Umuomaiukwu-Umuezegu on the 15th of September, 2020.
"As a result of these developments, our customers in Umulenwa, Umuagu, Umuelemoha, Umuezenta, Umuala, Umunkolo, Obohia, Agburuike, Ahiafor Agburuike, Umukpeyi, Amanwachukwu, Umuakwu nsulu, Umuogele, Azuiyi, Oloko, Timber substation, Mbawsi, Umugo, Ohuhu Nsulu, , Ikem Nvosi, Umuhum Nvosi, Onuwell, Umuwaocha, Umunneise Eziama, Amaku Nvosi, Umunkpor, Umuokorogu, Egbelu osusu, Umuonyia Osusu, Eziala, Umukalu, Umuihiala, Okpuala Ntigha communities and St Paul's substation have been out of power supply."
Ezeh noted that the incidents have been reported at the central police station, Umuahia and Ogbualangwa Divisional Police Station respectively, for proper and further investigation.
"Other critical stakeholders within the affected communities have equally notified of this development.
"We sincerely regret the inconveniences this will cause our esteemed customers and assure them that effort is being made to procure and replace the vandalised items and restore supply to the affected areas.
"EEDC appeal to her customers to be more vigilant in protecting these installations within their communities against vandals," the statement concluded.