After frisking them for exhibits, scrutinizing their credentials and finding nothing incriminating, officer Ndumele still condemned them to an imaginary crime for which he threatens to pin on them except they pay up.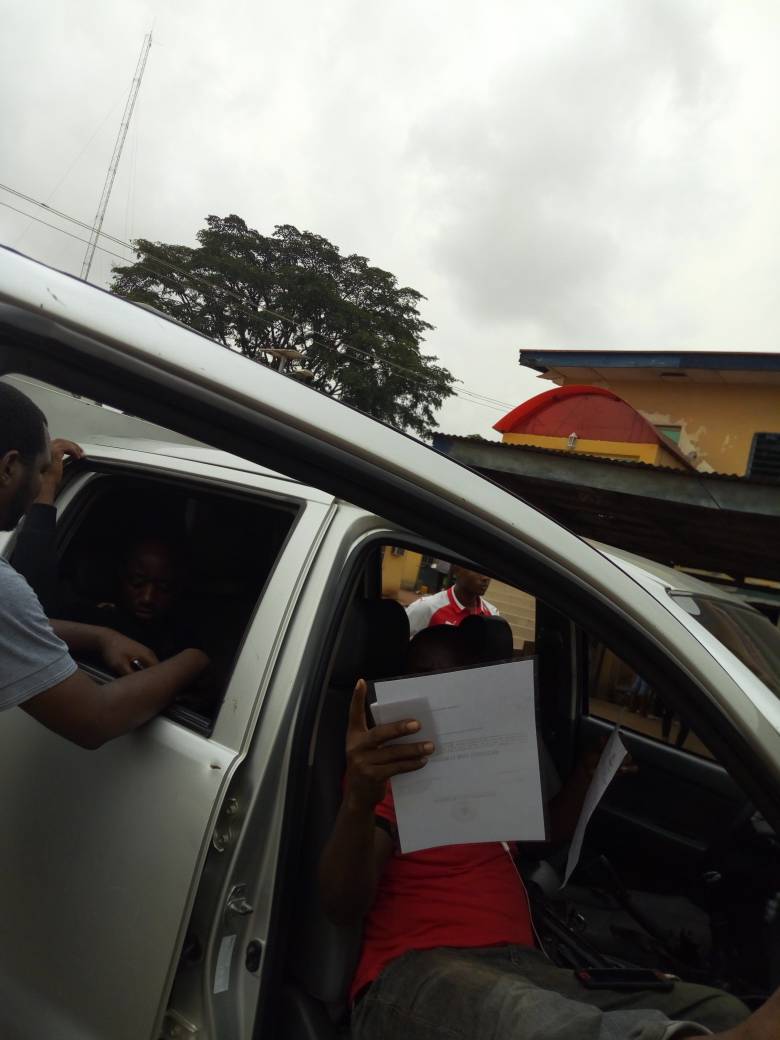 A few months ago, the call to end the Special Anti-Robbery Unit of the Nigerian police trended with the hashtag #EndSars taking over the internet. Even though the police PPRO Jimoh Moshood declared in a saucy video that also went viral that most people calling for the scrapping of SARS are criminals, Nigerians who have tasted the bitter end of the barbarism of officers like Uche Ndumele laughed off his naïve submission as a desperate attempt at damage control.
The truth remains that SARS from its antecedence and the gory testimonies of its victims is turning out to be a very dangerous unit. Officers of this establishment carry themselves with a certain air of nonchalance; that look about them that says they can get away with everything. Even their detention facility in Abuja is a nightmare if testimonies from those who have been held there are anything to go by. Amnesty international has also raised questions about the legality of the unit acting as it were from verifiable data at its disposal just as the governor of Rivers state last year accused SARS of being behind the upsurge of kidnapping in the state.
It will be interesting to hear what the police PPRO will say now that his officer in Imo state has been caught red handed extorting monies from Journalists! Yes, you read that right.
On the morning of Sunday March, the 31st 2018, four bloggers who had attended a two-day parley of the Online Media Practitioners Association of Nigeria (OMPAN) in Owerri were accosted by a team of the Imo State SARS led by one Uche Ndumele. After frisking them for exhibits, scrutinizing their credentials and finding nothing incriminating, officer Ndumele still condemned them to an imaginary crime for which he threatens to pin on them except they pay up.
Nigerians who have been caught in similar situations can attest to the fact that once a crooked police officer gets to that desperate point of threatening to pin a crime on his victims, the best thing to do is to pay up or risk ending up in jail or worse. Such was the case with the bloggers who after delivering lots of pleas that fell on deaf ears, the bloggers turned the incident into an opportunity for investigation by allowing themselves to be driven to an ATM by officer Uche Ndumele and his boys where 10 thousand Naira was withdrawn and handed to them. Unknown to the officers who have been blinded by the excitement of an early Easter Gift, the smart journalist were acting an investigative script. They took pictures and this is where the saga began.
Naturally, the Bloggers reported the incident to the president of OMPAN, the association that brought them to Imo state in the first place. Angered by the report, the president sourced for the number of the officer in question and called him to demand an explanation and although officer Uche Ndumele denied the allegation, his guilt could be clearly deduced from his meaningless ramble when the president informed him that the issue has already been reported all the way up to the presidency. His confession will be confirmed later when yet another leader of OMPAN called him and he owned up to the crime. Both calls were recorded.
It is scary the kind of power men of the Nigerian police have appropriated to themselves. A few years ago, six patriotic and law-abiding citizens of this nation were gunned down by men of the Nigerian police in Apo when the criminals in uniform discovered they were transporting huge sums of their hard-earned money. Last year or so, a video footage that appears to show a police officer in full uniform negotiating a bribe surfaced in the internet and one would have thought the big stick will be wielded then, but no, little or nothing was done to the officers in question.
So many cases have come in recent years indicting police and despite all the talk of restructuring that Jimoh Moshood promised will be brought into the conduct of SARS and the entire police following the #EndSARS campaign, Nigerians are yet to notice any changes as the police continues to be a source of embarrassment to this nation with everyday reports of extortion and other unsavory practices. This may be so because crooked officers have not really been treated to a punishment befitting the severity of their heinous crimes against the people they have been charged to protect.
This is why this incident with Uche Ndimele must not be wished away. The Attorney General of the federation, the leadership of the National Assembly, the police headquarters and all relevant authorities whose duties it is to protect Nigerians from the high handedness of armed criminals masquerading in uniforms of security agencies to quickly step in to ensure that Officer Uche Ndumele and his gang of crooks are brought to justice. Any country that does not create a template that will keep its state security apparatus in line is doomed to be slaughtered by the same security it armed. Where then will be the place of deterrence if the police are not rid of bad eggs like these who I contend are many if not more than the good ones?
I can't even imagine the trauma that Nigerians who are not Journalists acting out a script will experience in this circumstance where they are matched at gunpoint like common criminals to the ATM to withdraw bribe monies. This I believe is a window of opportunity brought on a platter of gold for police spokesperson Jimoh Moshood to show Nigerians how his establishment handles cases such as these that are backed with the kind of incontrovertible evidence at the disposal of OMPAN when they are brought to them. Do they swing into action to investigate and prosecute or will they take the inglorious route? Nigerians are watching.
Ismaila Kana
National PRO OMPAN