Chief amongst them is the resolve "that the five South East states would urgently implement the directive of the National Steering Committee to constitute a 15-man Steering Committee at the State, LGA, Ward, and where applicable at polling unit, levels."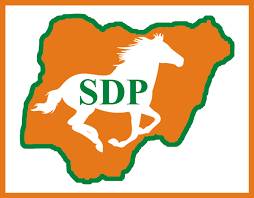 Rising from their meeting in Enugu, members of the Social Democratic Party (SDP) in the South East geopolitical zone came up with a communiqűe. The meeting which was attended by delegates FROM all the 5 states of the zone is a clear indication that there's no faction in the zonal structure of the SDP
The meeting was well attended by all the national steering committee members of the party from the south east zone came up with 9 resolutions. Chief amongst them is the resolve "that the five South East states would urgently implement the directive of the National Steering Committee to constitute a 15-man Steering Committee at the State, LGA, Ward, and where applicable at polling unit, levels."
The full communique read;
COMMUNIQUE OF THE 3nd SOUTH EAST DELEGATES MEETING OF THE SOCIAL DEMOCRATIC PARTY HELD ON SATURDAY, 31ST MARCH 2018 AT THE UTOPIA SUITES AND APARTMENTS, INDEPENDENT LAYOUT, ENUGU.
Preamble:
The 3rd South East SDP Delegates meeting, held on Saturday 31st March, 2018 at Utopia Suites and Apartments, Independent Layout, Enugu. The purpose of the meeting was first, to discuss how to reintegrate the South East zone into mainstream national politics through the SDP platform; second, make SDP the dominant political platform in the zone for the 2019 and subsequent general elections in Nigeria; third, harmonize and strengthen the SDP as a formidable force within the five South East states, for stronger relevance in national politics; and fourthly, eliminate political rancour, build solidarity, and refocus the Party towards stronger and purposeful leadership in the South East, at Zonal, State, LGA, and Ward levels.
Present at the meeting were delegates from the five South East states, comprising leaders and members of the party at various levels, including the National Organising Secretary, National Youth leader, Political Leaders, Community Leaders, Leaders of organisations, such as youth and women groups, CSOs, FBOs, CBOs, the academia, trade union, the clergy, farmers, artisans, etc.
Resolutions:
Arising from the meeting the following resolutions were reached:
1. That the South East geopolitical zone has implicit confidence in the new National Leadership of the Social Democratic Party.
2. That the zone has resolved to work assiduously to mobilize membership into the reinvigorated SDP in the five South East states.
3. That the zone has resolved to eliminate political infighting and focus on purposeful leadership at the zonal, state, LGA, and Ward levels.
4. That the South East zone shall be guided by the March 1st,, 2018 MoU and new leadership structure emerging therefrom at National, States, LGA and Ward levels.
5. That the meeting understood, accepted and will work with the explanation given by the National Organising Secretary and National Youth Leader on the way forward for SDP in the South East.
6. That the five South East states would urgently implement the directive of the National Steering Committee to constitute a 15-man Steering Committee at the State, LGA, Ward, and where applicable at polling unit, levels.
7. That the South East States shall obtain membership registers and cards for proper documentation of members, to populate and reinvigorate the party in the zone.
8. That appropriate steps should be taken by the national leaders to harmonise all discontents and dissenting voices to ensure that SDP becomes one united family.
9. That the New SDP shall rigorously resist imposition of candidates and shall through option A4, produce popular and acceptable candidates with integrity and honour.