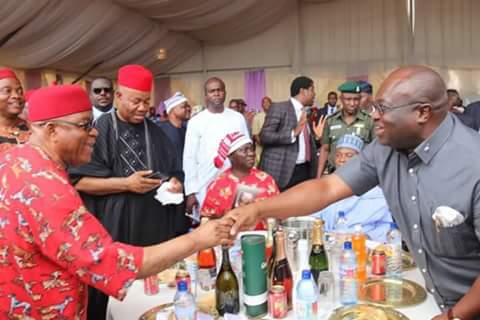 Dear Senator T.A Orji,
I heard you were joined by my Amiable Caterpillarised Governor, Dr. Okezie Ikpeazu, Senate President Bukola Saraki, Distinguished senator Ike Ekweremadu, Eloquent and fearless senator Dino Melaye, Hon. Member representing my good people at the green chambers, Uko Nkole, Senator Godswill Akpabio, Dr. Ogbonnaya Onu and a host of others for the burial of Senator MAO ohabunwa's mother in Arochukwu LGA. Like I always ask, "How was UNA trip"?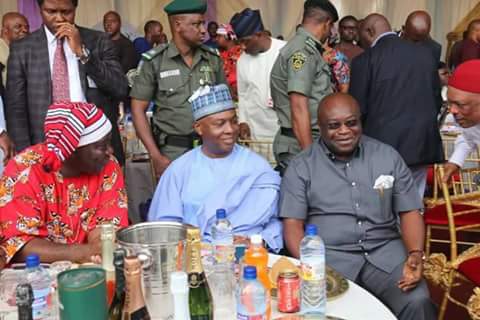 Sir,  I want to join the millions of Abians whom you have rendered helpless at home and those whom you have denied them access to their father's land by abandoning our roads as you met them in 2007 to say, "Welcome Home"!
I can imagine how Saraki, Ekweremadu, Akpabio and Dino Melaye will be looking at you, your successor, Ohabunwa and Nkole.
I might have not been to Kwara or Kogi State, but Sir, you need to tour AkwaIbom and Enugu to see what your fellow senators are doing.
Go to AkwaIbom and See what Akpabio did as a Governor and is doing as a senator. Come to Awgu and Aninri to see what Ekweremadu did for his people. You will drive without a single porthole. Not even one. But you can't drive 500metres from Old soldier Junction in Ohafia to Arochukwu without entering 20portholes.
Shame no catch una carry those men come see how una take the destroy our state.
Oga senator, you did nothing for Abians during your 8years as Governor of the state. You destroyed the state completely. No infrastructural developments neither did Abians get a return for the tax they paid.
You're now a senator representing Abia Central in the red chambers. I can't for sure say you haven't done anything for your people since you became a senator as I am not from Abia Central.
But the truth remains Senator Theodore A Orji, you're not a good leader.
I wonder why Okezie Ikpeazu is covering your sins, making it impossible for EFCC to do something. Well I wouldn't blame Ikpeazu. I will blame Orji Uzor Kalu for giving us someone like you. From prison to government House Umuahia. How he was smuggled just to be sweared in as Governor so immunity can cover you before they arrest you again. I remember how OUK foiled all the plans of Obasanjo to stop your swearing in.
Let me say this again. Anybody supporting T.A Orji is no good for his/her community. Tell me any Tangible development Orji executed during his 8years as Governor. I stand to be corrected.
And to you my dear MAO Ohabunwa, I just want to thank you for the frying pans and gas cookers you empowered our people with the last time. You too try shaaa. But shame suppose catch you o. Any ways, God bless you accordingly.
And to my dear House of Reps. Member, You're trying by empowering the youths with federal Jobs. That's all I can say.
My dear governor, how is our first ever fly-over going. Weldone sir.
In the end, I just hope our visitors got back home safely. As you their hosts should enjoy what you created.
My name is Sunny Chinecherem Nzere and I hope they will not tag me a hate speech offender.