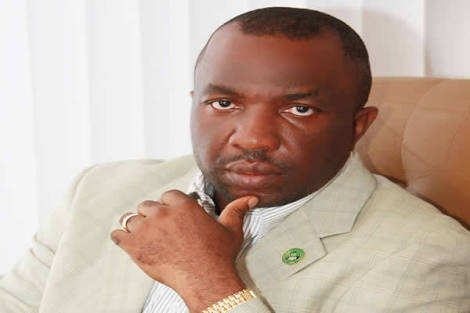 Living the trust and determined to Give Nigerians Value. Text from Chief Ralphs Okey Nwosu, the National Chairman ADC on the 60th NEC meeting of ADC, held at the ADC new Headquarters, WuseII, Abuja.
Recent survey/poll on the most trending Political party in Nigeria confirmed that the African Democratic Congress ADC is the number one in three categories: new members, public discourses, and exciting grassroots activities. This is incontrovertible. The adoption of our party by CNM, Arise Nigeria, Grassroots Initiatives, and other groups and political parties, their decision to fuse into ADC, and the generosity of prominent statesmen and women have truly made ADC the number one party. This therefore places a lot of responsibilities on all members of our party executive committees from wards, local government, state and National. We have earned the trust, and we have to live it.
Living the trust means work, work, work; and being selfless and working with integrity like the patriots that we are. We have not done badly. We have always been committed to changing the ugly politics that seem to pollute our environment, and government. And we must now not lose focus. Again I beg you all, it is not about position. As you all know, abiding with the ADC spirit and culture, I will relinquish my position as National Chairman very soon, once we have things in place but I will work until we deliver on our mission.
May I remind us that our nation is under the most bizarre, parochial, dictatorial and mindless government ever. Being clueless and vengeful, the APC government took propaganda, lies, and cruelty too far. We are in very unusual time in Nigeria. As a result we need the alignment of progressive and patriotic forces and political parties to deal with the APC monster. Our national and international coordinators, facilitators and mentors are doing the strategic networking that will ensure that we rescue our fatherland.
We have set July deadline to conclude all negotiations with all interested parties. I am sure that all the well-meaning players will see the sense in our insistence in having something new and refreshingly different and exciting, and also be willing to align their politics to the ADC's guiding principles. The electorates are wiser, and will not expect anything less. We have a brand new ADC, everyone is equal in this party. The idea of superior or inferior partners does not exist. However, we must all evolve the missionary spirit in us in our politics and nation building engagements.
We are determined to ensure that ADC produces the next president, and majority of the elected officials in the 2019 general elections. As I always say, do not pay attention to the propaganda and brinkmanship of those who play money politics; their only power depend on money and brute force. We shall overcome, and we are ready to work with all patriots and politicians who are well disposed to the values we offer. Our guiding principles are well framed.
1. Commit to stay on Party ideology, and visions.
2. Commit to our Role-Modeling-Leadership Paradigm.
3. Inclusivity, and full involvement of the youths and women.
4. Accountability to constituency and country.
5. Building Bridges across borders with our Handshake philosophy.
6. Support a more prudent and responsive Governance framework.
7. Be Anti-corruption vanguard.
8. Complete service orientation.
And we shall do business with all who commit to these.
I have no doubt that we are on the same page with the Nigeria electorates. So my dear party men and ladies let us maintain our focus; always committing to the high ideals. ADC represents the future all Nigerians long for.
God Bless ADC. God Bless Nigeria.
-Our task is not to foresee the future, but to enable it.
Antoine de Saint-Exupery