Agu Oka, the government house of Anambra State is currently locked down by Anglican clergies numbering over 300 from the diocese of the Niger that is the Onitsha area all dressed in their robes
The angry clergies are accusing the state governor of religious bigotry and vowed not to leave the scene until the governor addressed them.
Our investigation shows that the reason for the protest is the alleged seizure of Bishop Crowther primary school in Onitsha by their Catholic counterpart which the clergies (Anglicans) claimed belonged to them.
The Anglicans accused Obiano who is a Catholic of aiding his denomination to take over the property.
The priests who were singing different versions of their hymns carried placards of different inscriptions.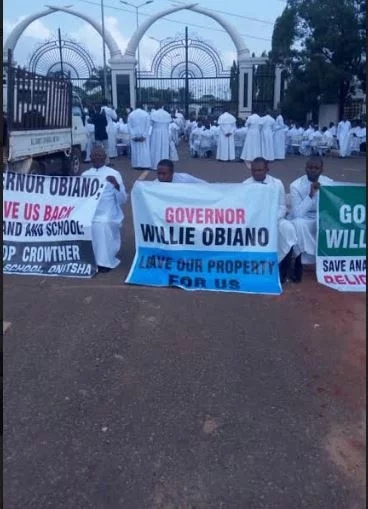 Some of the placards read, " Willie Obiano leave our property for us,"Governor Obiano give us back our land and school", "Religious politics in Anambra has no end", "Bishop Crowder memorial primary school Onitsha belongs to Anglican Church", "Bishop crowder is not government's property".