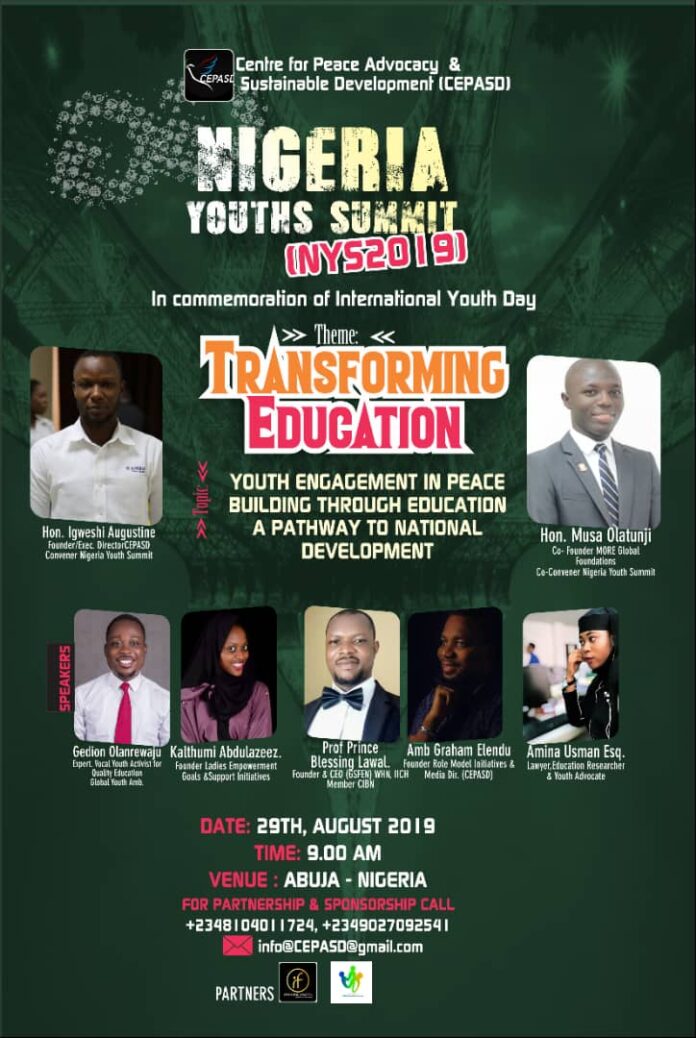 In commemoration of the International Youth Day, the Nigeria Youth Summit (NYS) has begun free registration for this year's youth conference.
The Summit with the theme "Transforming Education," is being organized by Center for Peace Advocacy and Sustainable Development (CEPASD) in partnership with MORE Global Foundation and scheduled to hold in the capital city of Abuja on August 29, 2019.
Anchored on the topic: "Youth engagement in peace building through education: A pathway for national development," is an important milestone and transformational roadmap tailored towards achieving quality education, peace building, economic development and inclusion of people with disability in education and learning.
According to the organizers of the summit, "the anticipated highly interactive event promises to bring together stakeholders, youths, policy expert, relevant actors, CSOs and federal government ministries and agencies to synergize, brainstorm and map out action plans to achieve quality education for economic development of Nigeria. The summit is to commemorate international youth day.
"The Summit will offer youths the opportunity to meet stakeholders, policy experts, entrepreneurs, actors and top government officials. The youth will network and synergize with other young people from different parts of the state and build network to advance their future careers and also make important networking contacts which will facilitate easy access to more opportunities.
"It will identify strength and weakness and get certificate of participation. There will be a free Wi-fi at the event come with your laptop."
To register to participate for this summit, follow the link below;
https://docs.google.com/forms/d/1mkgaPj2C-tm19KnardTAT7FdnYWa2W2OYMgLZVQJe6Y/edit?ts=5d3862d4