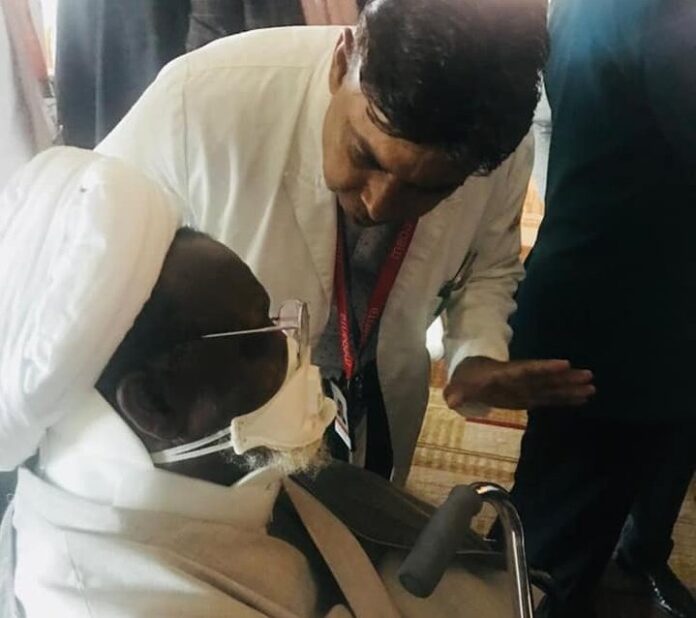 The plan by the leader of Islamic Movement of Nigeria, IMN, Ibrahim El-Zakzaky to receive medical attention at India has generated a of controversies. El-ZakZaky on Tuesday raised alarm that FG in collaboration with some foriegn countries are frustrating his medical treatment.
Speaking on the development, the movement in an update sent via their twitter handle said;
"Indian govt have issued an ultimatum to Sheikh Zakzaky that either he agree with what they plan or should leave India in 2 hours.
"Earlier, even before the Sheikh arrived the hospital, officials of US Indian Affairs instructed management of the hospital not to admit him," the group wrote.
Listen to the audio below; 
In a recent development, the group said that the doctors of their leader has been granted access to him and his wife; "Sheikh El-Zakzaky and Mallimah Zeenah have been given access to their medical team. They are still restricted to the hospital premises, but there are negotiations going on to resolve this situation."
Earlier today, Mr El-Zakzaky said the management of Medanta Hospital, New Delhi, had been threatened not to admit him for treatment.
"The hospital officials received us well they told us that they parked two ambulance vehicles, deceiving the crowd while taking us out through another way, saying that it was for our own safety.
"On getting to the hospital, we were placed under a tighter security situation worse than what we have been witnessed in Nigeria. We are currently more confined than when we were in Nigeria, worse than a prison setting.
"Contrary to what was agreed before our arrival, that our own personal doctors would supervise this treatment. Now they've changed the arrangement. So, we objected receiving treatment from strange doctors without the supervision of our own trusted physicians,'' he noted.