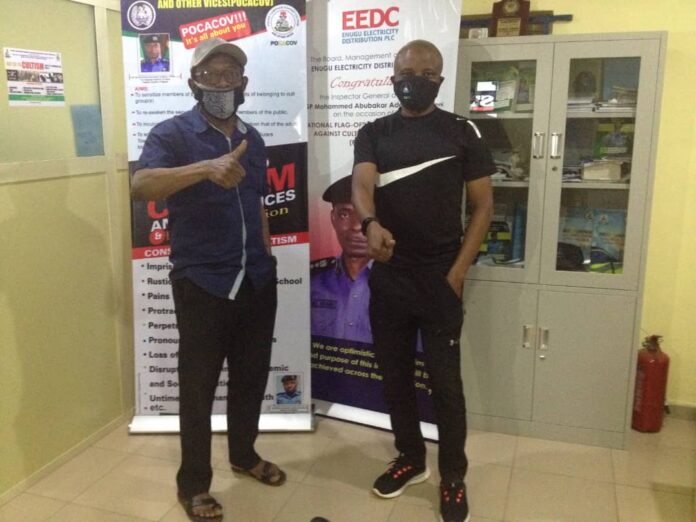 The police Campaign Against Cultism and Other Vices (POCACOV) has revealed that that the IGP MA ADAMU POCACOV Resource Centre Enugu in partnership with POCACOV Ambassadors made up of broad spectrum of notable and reputable Nollywood actors, actresses, artistes, comedians as well as celebrities and producers amongst others has embarked on mass production of mind changing campaign skits, film series and jingles as well as the use of posters and other campaign engagement processes to discourage Nigerian children and youths from involving in cultism, sexual and gender based violence, thuggery, violence, substance abuse such as DABA, Sarasuka, Kararari amongst others as well as other vices in the the country.
This was disclosed to the Newsmen by the National Coordinator of POCACOV CSP Ebere Amaraizu at the IGP MA ADAMU POCACOV Resource Centre Enugu on Friday, July 31st, shortly after a meeting with the POCACOV lead and pioneer Ambassador Nkem Owoh also known as Osuofia.
According to the Amaraizu, POCACOV has produced many skits and film series as well as jingles amongst others and all of these, are helping in the ongoing massive campaign by the Nigeria Police through POCACOV.
"You know in POCACOV, everybody is involved and that's why 'POCACOV is about you'.
"We need to join hands with Nigeria police force through POCACOV to save Nigerian children and youths from the claws of cultism and other vices thereby making our society a safe and secured place.
"We are mobilizing Nigerian youths to shun cultism, substance abuse, Sexual and Gender Based Violence, thuggery and violence, cyber crime, examination malpractice, sex for grade and marks, sex for admission and employment, identity theft amongst other vices through POCACOV advocacy programme, awareness creation and sensitization, mentoring and re-orientation amongst others .
"POCACOV is a community driven programme of the Nigeria police force under IGP M.A ADAMU structured in line with the tenets of the community oriented policing and involving different stakeholders.
"Achievements are being recorded on daily and weekly basis as many are turning from their evil ways and surrendering their weapons and becoming part and parcel of the society having realized that cultism and other vices are like the evil wind that blows no good.
"Additionally, we are also developing cartoon messages for our children which will shall be engaging them with through social and conventional media.
"The cartoon will have good moral and cultural message and will promote value system. We have our partnership with Technology giant of Tenece Technology that have been helping out in reaching of school children and youths through virtual communication as the lock down due to corona virus lasts.
"POCACOV has ensured that through its stakeholders, the vacuum in engagement were not created. We have also through the support of Enugu state Government produced twenty five thousand copies of Campaign made easy book titled Nigerian Youths in cultism and other vices and the way out which was distributed free of charge to all the schools, colleges and communities by the state government through its Ministry of education.
We are on board to get across soon in the first cluster to states like Lagos, Ogun, Plateau, Niger, Oyo, Imo, Abia amongst others.
"We are operating in Rivers and Delta states and we are deepening our community engagement and providing alternative through our POCACOV Volunteer Club Scheme (PVCS) of safer school/community partnership," Amaraizu said.