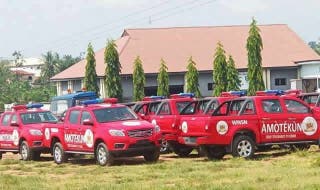 The Corps Commander, Ekiti State Security Network Agency (Amotekun Corps), Brig. Gen. Joe Komolafe (retd.), said on Thursday that the agency's governing board had completed screening for 2,593 applicants.
Komolafe said the shortlisting exercise for the successful ones among them would "be transparent, non-partisan and merit-based to ensure that only people of unquestionable character and integrity are recruited".
The Punch reports that the corps commander, who spoke in Ado Ekiti on completion of the screening, said the governing board would meet next week to deliberate on the report
Komolafe said the merit-based appointment would help the security outfit achieve its goals and objectives targeted at keeping armed robbery, kidnapping, killing, and other crimes in the state at bay.
He said, "All successful applicants will be invited for medical tests and training before they will be deployed in their respective domains for the smooth take-off of Amotekun operations in the state.
"The screening was tedious because we know its importance. We can't afford to engage those that are not capable for the job.
"We will meet at the governing board level next week to deliberate on the reports submitted by the screening committee and without further delay invite those that meet our criteria from the 2,593 screened for medical examination and training before deployment."