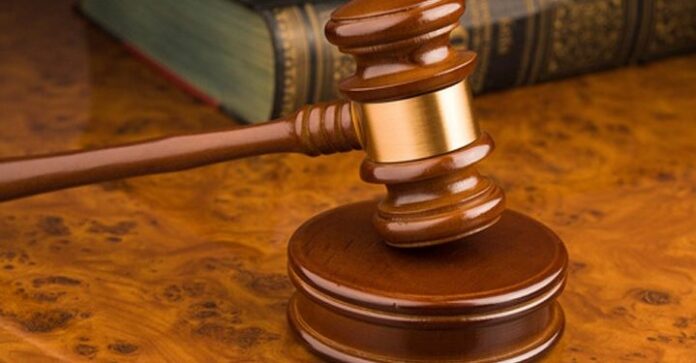 Nigerian Army officer convicted for armed robbery was on Thursday sentenced to death, either by hanging or by lethal injection in Adamawa State.
The military officer, Dompa Hyellablani, with Force number 13NA/70/6142, private, who served at 351 Artillery in Monguno, Borno State, was convicted on two counts bordering on criminal conspiracy and armed robbery.
According to SaharaReporters, the convict was enlisted into the Nigerian Army in 2013, and served in Plateau State before he was transferred to Borno State and posted to Monguno where he served until 2019.
Justice Kanyson Lawanson of the High Court slammed the death sentence on the military officer on Thursday, after he was tried and found guilty.
The judge, however, discharged and acquitted 19-year-old Emmanuel Adeka'a, who was arraigned alongside the military officer and joined as a defendant on the same count.
According to the prosecution, Hyellablani and Adeka'a had on September 9, 2019, while in front of VIS Restaurant, Yola, in the Yola North local government area, robbed Rita Harrison, a staff member of Post Primary Schools Management Board of her vehicle.
Hyellablani, an indigene of Adamawa State was said to have used an assault rifle to forcibly dispossess Harrison of her car (Toyota Camry LE) with registration number: BL 85 LSD – Lagos.
In his statement tendered and admitted in evidence, Hyellablani told the court that while in Monguno in 2019, the military decided to collect all arms from them, but that he refused to hand over his own due to threats posed by Boko Haram terrorists.
"I kept the rifle for self-defence," he added.
A few days later, he was granted a pass to travel to his home state of Adamawa where he committed the crime on September 9, 2019.
"He was fully dressed in military uniform and armed with a rifle when he saw Harrison in her car in front of the restaurant where he ordered her to give up her car at gunpoint," the prosecution submitted.
Thereafter, he was said to have fired four shots to scare away those who might want to rescue the woman.
He also threatened to shoot his friend who was also trying to escape for his life and ordered him to drive the stolen car to his hotel apartment around 11:30 pm.
However, they were intercepted by a team of local vigilantes while on their way to the hotel and handed over to the police.
While pronouncing the death sentence on him, Justice Kanyson declared that the prosecution had proved its case against the defendant as charged, and sentenced him to death by hanging or by lethal injection