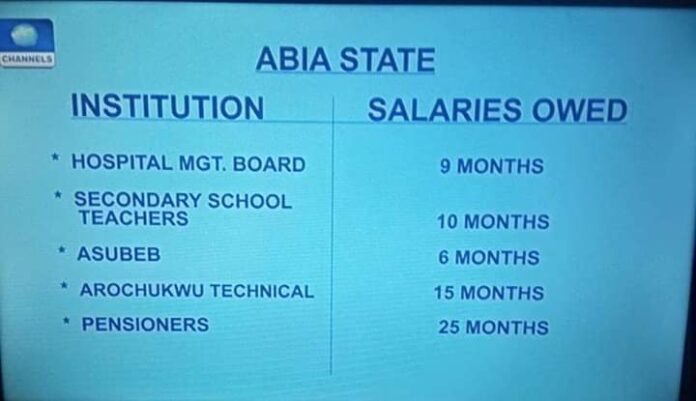 In Abia State, as in other states, there are industrial units statutorily defined as parastatals with political authority and serving the state indirectly. The laws setting up these parastatals confer on them extensive financial and management autonomy such that they can generate revenue, through their day to day operations, and deploy same to run their operations without remitting any portion to the state government as long as it serves the purpose of good governance and service delivery to the people.
The managers of state and federal parastatals have direct responsibility for the payment of workers and in Abia State the government has long advised them to make workers wage payment a first charge on their internally generated revenue.
It is a fact that while Ministries, Departments and Agencies (MDAs) of the state remit their revenues to State Government coffers and in turn workers in those MDAs are paid directly from state accounts, parastatals DO NOT remit their revenues to State Government accounts and their workers are NOT directly paid by the State Government.
This applies to parastatals created by law in Abia State and it is same with other states of the Federal Republic of Nigeria. Because some of the parastatals perform key roles in sensitive sectors of the state such as education and healthcare, the state government supports their operations through payment of subventions to assist them, especially where the revenue generated by such a parastatal is not adequate to enable them perform such key roles expected of them in the advancement of state agenda. For instance, those in the educational sector might not generate enough resources to pay workers and still procure essential teaching materials such as laboratory reagents, teaching aids etc.
It is important to note that subventions given to parastatals to support their operations are not necessarily to be applied to wage payment. One key characteristic of a parastatal is that their management set wage levels for their workers higher than what workers in state MDAs receive, in line with relevant industry practices.
For instance, parastatal workers in higher educational institutions like Abia State University (ABSU), Uturu, are paid using the University Salary Scale while non teaching staff in Abia State Polytechnic (ABIAPOLY) are on CONTEDIS with the teaching staff on CONPCASS scale. It is interesting to note that workers in Abia State Polytechnic, Aba, receive higher wages than their counterparts in other state owned polytechnics in the south east region including IMT, Anambra State Polytechnic, Imo State Polytechnic and Ebonyi State Polytechnic.
Since the inception of the Ikpeazu administration, we have made several interventions to support ailing parastatals pay their workers as we view those affected workers equally as our citizens who also deserve their wages.
Abia State Polytechnic
Shortly after Governor Okezie Ikpeazu was inaugurated in 2015, he met with the management and labour stakeholders of AbiaPoly to deliberate on how to move the institution forward and clear unpaid wages. At that meeting, the team from AbiaPoly specifically requested that the Governor assist them pay off a debilitating high interest commercial bank loan of Two Billion Naira (N2,000,000,000.00) with the assurance that once that was off their plate they would be able to pay their workers with or without subventions from the state government.
Governor Ikpeazu graciously granted their request and paid off the N2bn loan and even continued to pay monthly subventions of N90m to the institution for many months.
Yet, the institution is still owing its workers.
Apparently, the problem with this institution revolves around its low internally generated revenue, high wage bill of around N170m and bad corporate governance structure . In recent years, the student population in the school dropped from around 25,000 students to about 13,000 students due largely to the migration of new students to neighboring private polytechnics with stable academic calendar and lower school fees.
Interestingly, many teaching staff of AbiaPoly also engage in private practice at those private polytechnics where they teach for as low as N30,000 per month salary while earning more than N200,000 or more, monthly, from AbiaPoly. The effect is that with lower cost, the private polytechnic is able to lower school fees below the level of that of AbiaPoly and in so doing attract students who otherwise would have gone to AbiaPoly.
In addition to that challenge, the school clearly has an over bloated workforce with dozens of security staff in a fenced school, dozens canteen staff (in a non residential institution where catering services are provided by private persons who pay to the school for use of it's facilities) and even a full compliment of medical services staff that included high earning medical doctors and nurses in a school where sick students are only expected to be stabilized and moved to neighboring healthcare institutions.
Recently, a senior lecturer at AbiaPoly rejected an offer to teach at Abia State University where he would likely have headed a new department and rapidly rise to professorship. His reason: he was receiving higher wages than professors at ABSU.
Contrast the situation at AbiaPoly with another state parastatal, Abia State University (ABSU), that operates within the same educational sector. As at the time Governor Ikpeazu came on board, ABSU had backlogs of unpaid salaries with frequent breaks in academic activities due to industrial actions by the workers. After reviewing the situation in the institution, Governor Ikpeazu appointed Prof Eleazar Uche Ikonne as the new Vice Chancellor along with a new Council and gave them the mandate to ensure that the institution runs seamlessly.
Today, Abia State University is not having challenges with workers payment and that institution has not been involved in local industrial actions for more than 3 years. Local and international rating of the institution has soared, student population has grown and the school now maintains two viable campuses at Uturu and Umuahia.
This administration of Governor Okezie Ikpeazu is desirous of changing the narrative of AbiaPoly and has worked with the management team to recommend options that will help the institution run better and pay workers as and when due. We have noted efforts by the current management team to improve workers' welfare, expand available courses with introduction of courses like Mass Communication, Shoe Making and Designs among others. We have also received the internal operational review report from the institution and as soon as the Executive Council of the State approves the implementation of the recommendations we will ensure that those managing the institution do the needful.
TO BE CONTINUED…