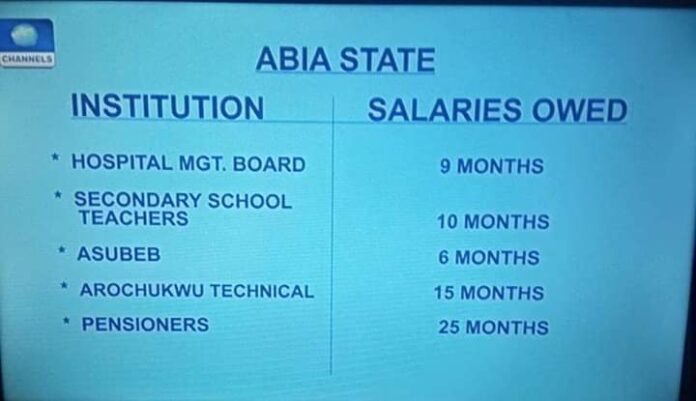 The situation with other distressed parastatals mirror the AbiaPoly conundrum with the signpost being the failure of diligent corporate governance. For instance, prior to October 2018, when Dr ACB Agbazuere was appointed General Manager of Abia State Passengers Integrated Manifest and Safety Scheme (ASPIMSS), the organisation owed workers 3 months wages. But by December 2018, Dr Agbazuere, the new GM, had restructured the place, sanitized their operations, paid off backlog of wages and also paid December salary even before state MDAs received theirs. Today, that parastatal has already paid April salary of workers.
Again, contrast that with other parastatals like ASUBEB where workers in a parastatal that is in charge of basic education (Primary 1-JS3) are being paid by the state government whereas in other states the local governments are responsible for wages of workers in UBE scheme. Interestingly, former workers of state MDAs lobbied to move their services to ASUBEB to receive higher wages and opportunities whereas such persons on secondment ordinarily should be paid by their parent ministries. Senior Secondary School teachers are the only ones expected to be paid by Secondary Education Management Board (SEMB) but due to the high wage bill arising from addition of JS teachers they are struggling.
To correct this anomaly, the government has set up a committee on Disarticulation of Junior Secondary Schools from SEMB and harmonization of payment of teachers' salaries and allowances by local governments to ensure proper administration of the school system and regular payment of workers.
It is unfortunate that people who go to state owned hospitals and pay money to get cards, treatment and other services see hospital management as social service that the state government should fund as a leaking pocket. Those who toe this line of puerile argument do not bother to ask medical practitioners and managers of state owned medical facilities what exactly happens to the money paid by patients and beneficiaries of other services or why they are not managing their private clinics as social services too.
How can managers of revenue making units who do not pay any portion of thier earnings to the state coffers but make and use revenue as they deem fit still come to government house at the end of every month, cap in hand, to beg for salary bailouts without accounting for their internally generated revenue?
Early in the administration of Governor Ikpeazu, stakeholders of Abia State University Teaching Hospital (ABSUTH), including labour leaders in the institution, visited the Governor to discuss how to move the institution forward. They informed the Governor that the workers were being owed 11 months in unpaid wages and requested the Governor to help settle the bill with a promise that if that was done they would run seamlessly and use what they make from their operations to run the institution. They also made the case for the sack of the then management team.
Governor Ikpeazu acquiesced to their requests and paid off the 11 months salary owed workers in the institution and changed the management team as requested. Indeed, workers earning N500,000 monthly got N5.5m at once. Apparently, those who benefited from the Governor's gesture proceeded to refurbish or establish new private clinics with the money and then reports of alleged diversion of patients from ABSUTH to these private clinics began to emerge. Whatever the institution made as revenue was purportedly used to buy diesel for the new generator provided by the Ikoeazu-led administration and such sundry expenses without paying the workers. Even medical consumables and equipment supplied by the government to the institution continued to diminish with no commensurate improvement in revenue.
ABSUTH workers are currently on strike and within the period of the strike have received two months payment through the intervention of the state government with plans to pay them additional one month in the coming days. A reform committee set up by the Governor is currently reviewing their operations with a view to recommending appropriate measures to optimize the operation of the parastatal.
Read Previous Parts of this series here.