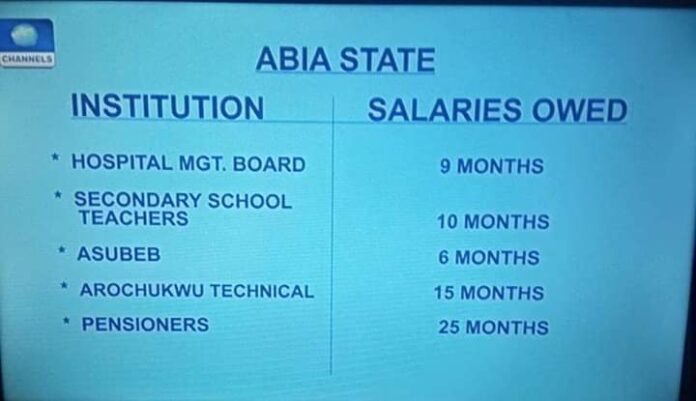 The same situation with ABSUTH largely applies to Hospital Management Board (HMB) and the story of the General Hospital in my village should suffice to tell part of the story. Akahaba General Hospital in Abiriba has not treated any patient for many years and the facility is in a complete state of disrepair. Yet, one day I accidentally sighted the wage sheet of HMB and saw that, at least, 5 medical staff were earning wages from HMB as workers in the hospital. Among those listed was the name of a medical doctor who also received "call duty allowances" from Akahaba General Hospital. I immediately drew the attention of the management team of HMB to this anomaly which mirrored the Governor's experience when he visited Isuikwuato General Hospital and met no single staff within the facility but was later presented with a wage bill showing that people are receiving monthly salaries from the facility.
We do not see the situation at those distressed parastatals as optimal and prior to the elections, Governor Ikpeazu publicly called out the management teams and gave them marching orders to ensure that workers were paid before the end of March 2019 or be prepared to be replaced. He has since dissolved the boards of ASUBEB, HMB and ABSUTH to pave way for new teams that will implement reforms, think outside the box and ensure that workers are paid as and when due. Additional 33 boards of optimally non performing establishments In the state have also been dissolved to make room for new teams that understand the need to make those establishments, including parastatals, function optimally, pay workers regularly and run with minimal support from government.
The current management team of AbiaPoly has shown some seriousness in tackling the challenge of workers' salary payment but nothing actionable has been received from Abia State College of Education (Technical), Arochukwu (ASCETA), where more than 376 workers earn wages to teach about 500 students. What an alarming anomaly!
In recent past, Governor Ikpeazu who has been paying N10m monthly as subvention to the institution approved an increase to N30m monthly. But without relevant internal reforms and push towards improving the revenue profile of the school there is no hope that the N30m will not end up the same way the previous subventions ended. One may wish to ask, for instance, why the management of ASCETA will not partner with ABSU to offer degree courses in education to attract more students?
A reform committee, is currently in place to review the situation at ASCETA and recommend ways to improve the fortunes of the school. Eminent educationist, Prof Mkpa Agu Mkpa, Dr Chukwuma Agu (Chairman), Mr Mac Atasie, Eze (Prof) Maxwell Ogbulu, Mrs Chinedu Brown, among others.
Read previous editions.
TO BE CONTINUED….