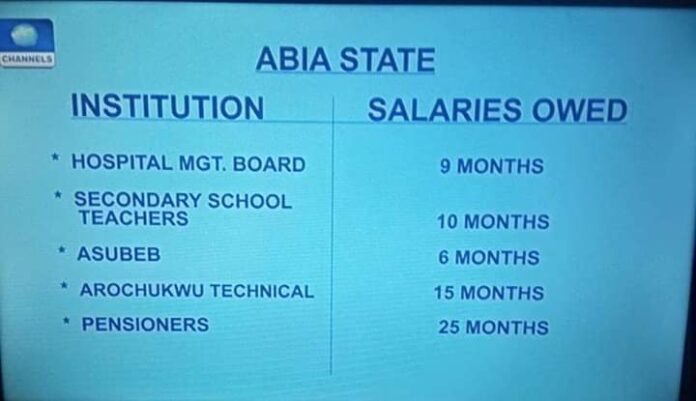 On pensioners, we are determined to not only solve the challenge but also do so in a sustainable manner. Abia State pays more than N450m monthly to state pensioners and more than N380m monthly to LGA pensioners. Our current wage bill revolves around N2.7bn monthly for the state while that of LGAs is around N1.9bn monthly. Contrast that with one of our neighboring states with a total wage bill of N900m, including a monthly pension bill of N160m, and you will understand why successive administrations in Abia state struggle to meet other needs of majority of our hardworking citizens after paying salaries.
In 2015, when the first verification of pensioners was done by Ikpeazu-led administration, one of the cabals that specializes in padding pension wage bill in the state was unmasked. The scheme engineered by a man who never worked In the civil service for one day took advantage of our existing poor internal controls by teaming up with nefarious actors within the pension payment system to inject fictitious names into the pension basket. While the ring leaders were duly handed over to security agents for prosecution, the administration discovered that the existing sub treasury payment system created the loophole exploited by the scammers, and proceeded to abolish the system in preference for a centralized system that ensures that our aged pensioners receive alerts from the comfort of their homes instead of queuing up under a tree to be paid.
It is a well known fact that in the southeast region, Abia workers and pensioners receive the highest wage per worker and because of our existing civil service promotion policy and practice whereby workers automatically move to the next salary level with every promotion exercise, not minding competence, disproportionately high number of workers end up retiring as directors or permanent secretaries.
On the average, the state receives a net sum of N3.5bn monthly as federal allocation, including derivation payments. With only 4 active oil wells against 50-70 owned by some of our neighbours, oil derivation revenue for the state is minimal. As at today, Delta State has 74 active oil wells, Ondo – 18, Edo – 13, Rivers – 77, Bayelsa – 58, Ak Ibom – 55, Abia – 4, Imo – 12, Lagos – 1. Yet, previous decisions on wages were taken on the basis of Abia being an "oil producing state". It will shock most readers to note that in a particular month, we received less than twenty million naira (N20,000,000) as derivation payment.
Internally generated revenue (IGR) still remains under N1bn (excluding PAYE) because of revenue leakages and other structural problems. While the administration commissioned a company to computerize the IGR collection and accounting system, not much improvement has been observed. We are therefore set to rejig the system to eliminate or, at least, reduce revenue leakages to its barest minimum as well as put in place a humane revenue collection system. In the coming weeks, the details of this and more will be revealed and implemented.
In summary, we are aware of the challenges within our parastatals and pension payment system and have taken measures to change the narrative. It is unacceptable to the administration to allow genuine workers in our parastatals suffer from irregular payment of wages and we will certainly make necessary interventions to end the saga.
Yet, it is factually incorrect to state that Abia pensioners have continuously not been paid for the number of months advertised. I know for a fact that in December 2018, March 2019 and May 2019 state pensioners received at least one month payment for each of those months. But we certainly have backlogs that the administration intends to clear, especially with the likelihood that the last tranche of Paris Club refund for Abia will soon be paid. Other states have already received their due refunds of the money deducted in excess from the state to pay our national debt and Abia state expects about $80m refund.
To avert future challenges with pension payment in the state, we have signed up to the contributory pension scheme which should ensure that those who retire from January 2019 do not suffer any delays in the payment of their pensions and gratuities.
Let me assure all that the Ikpeazu-led administration has the correct diagnosis of the issues in the ailing parastatals as well as the political will to do the needful to change the situation positively. All we are asking for is support and understanding from all strata of Abia society as we embark on far reaching reforms to reposition the work force for optimal results.
Meanwhile, we are aware that during the last May Day celebration, NLC and TUC leaders acknowledged that the administration of Dr Okezie Ikpeazu is up to date with salary payment of workers of MDAs in Abia State, who are by law the group paid directly by the state government. It is shocking that even when Channels TV interviewed the NLC Chairman, Uchenna Obigwe, and saw the written relevant statement applauding the government for sustainably solving the previous challenge with MDAs, where the majority of Abia workers are located and the administration has been paying them seamlessly, the station obviously chose not to at least balance their news report. Hopefully, the intention was not to create mischief in furtherance of any political objectives. But we still noted that whereas in their reports concerning other states of the federation no mention was made of the status of parastatals and pension payment, even where outstanding exists, the focus on Abia's parastatals without even properly informing viewers that the listed units are state parastatals that the government does not pay directly, is suspect. The relevant interview portion with the NLC Chairman and myself were deliberately omitted in an apparent hatchet job aimed at generating public odium for the state and its government. I therefore wish to call on journalists in the state to kindly abide by the journalistic creed of balancing their reports by hearing from and publishing the other side at all times.
Elections are over in Abia State and the focus should be substantive governance aimed at delivering more dividends of democracy to the people.
In addition to our efforts to reposition our workforce, this administration is determinedly pushing job creation to ensure that more of our high flying and unmatchable graduates are gainfully employed within the public and private sectors of the state economy. We have accelerated work in the new Aba Automated Shoe Factory which is expected to provide, at least, 1,000 new jobs as well as supporting the establishment of the Nibra Leather City at Obuaku that is poised to add another 1,000 jobs to the state economy. Our flagship industrialization Public Private Partnership (PPP) project, the Enyimba Economic City and Free Trade Zone, is expected to deliver a minimum of 700,000 jobs within the next 10 years. The administration is also supporting Small and Medium Scale Enterprises in the state to employ more Abians through the provision of better infrastructure, security and other institutional support.
With more well paying private sector jobs, we hope to reduce the pressure on our parastatals and civil service to hire more.
Thank you.
(CONCLUDED)
Read the previous parts;