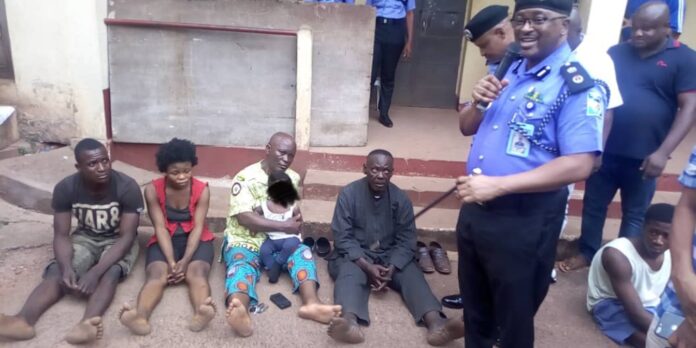 The Enugu State Police Command of the Nigeria Police Force, Thursday, paraded about ten criminal suspects over their alleged involvement in criminal conspiracy, child trafficking, murder and cultism in the state.
While highlighting some of the modest achievements recorded by the Command, the Commissioner of Police, CP Ahmad Abdurrahman, in a press briefing at the State Command Headquarters, said the recent feats and arrest of suspects were made possible through the efforts of the Central Police Station, 9th Mile and Mbanabo Divisions, the State CID, Anti-cult Unit, amongst others.
According to the state police boss, items recovered during the operation includes one dagger, one sewing machine and a cash sum of ₦700,000.
In the breakdown of the achievement, one Dr. Benedict Agbodache, aged 87, of Moonlight Hospital and Maternity, Bunker, Coal Camp, Enugu; Mrs Ukamaka Onah, aged 40 of 17 Awkuzu street, Uwani, Enugu; Miss Uchechi Joseph, aged 19, of Bunker, Coal Camp, Enugu and one Abubakar Idris, also known as "Buhari", aged 26, of Bunker Coal Camp, Enugu, were all apprehended over their alleged involvement in conspiracy and child trafficking.
The police commissioner noted that the suspects were arrested by operatives of the Central Police Station, CPS, of the Command after a report from one of the suspects, Uchechi Joseph, alleging that Abubakar Idris took her to Moonlight Hospital and Maternity where she put to bed, a baby boy.
"However, Dr. Benedict Agbodache 'M' of the said hospital/maternity bought the child at the sum of ₦300,000 from her and she used the sum of ₦45,000. Upon arrest, the doctor admitted buying the child from her mother and selling him to one Ukamaka Onah 'F' at the sum of ₦1,000,000. The child has been rescued while investigation is ongoing with a view to arrest more suspects and bring them to book," he narrated.
In another incident, operatives of the Central Police Station of the Command arrested one Dominic Nwajobi, aged 28, of Colliery Quarters, Coal Camp, Enugu on March 9, for the alleged murder of one Emmanuel David.
According to the statement, "Police operatives attached to Central Police Station, following a report received from a complainant that on that same date(March 9, 2020), at about 1100 hours, the complainant and the deceased, Emmanuel David, went to Colliery Quarters to sell Neolife health supplement products and the suspects suddenly started attacking the deceased, claiming that he had warned him not to come to the area to sell the products again.
"As he was physically attacking the deceased, the deceased suddenly slumped and was immediately rushed to Eastern Nigeria Medical Hospital where he was confirmed dead."
In another related incident, an SS2 student of Community Secondary School, Ihe, Awgu LGA of the state, identified as Chukwu Chimaobi, aged 16 years, stabbed his classmate, Miracle Egbo, 17 years, to death and took to his heels.
Master Chukwu was arrested by operatives of Mbanabo Police Division following a report from the school principal on February 25, 2020.
In another separate incident, operatives of the Anti-cult unit of the police command, rounded up one Charles Onoh, Male, aged 23, of Amonu-Uboji, Ngwo; Chigozie Onoh, Male, aged 25, of Ameke-Ngwo; Eze Gerald, Male, aged 35, of Ameke-Ngwo, all from Udi local government area of the state and alleged members of Vikings Confraternity and one Okoro Sunday, Male, aged 38, of Ameke-Ngwo in Udi LGA, an alleged member of Black Axe Confraternity over their alleged involvement in cultism and murder.
According to CP Abdurrahman, "Following reports that there was cult crisis at 9th Mile area of the state on 9th March 2020, which led to the killing of three persons, operatives of the Anti-Cult Unit of the Command stormed the area on 10th March, 2020, joined forces with operatives of 9th Mile Police Division and were able to arrest the suspects.
"Preliminary investigations reveal that the first suspect, Charles Onoh (a.k.a Hausa), a member of the Vikings Confraternity and recently released from prison custody sometime in March 2019, was having a procession, shooting of guns and other cult activities with his cult members during his deceased father's night wake keep ceremony, when they got information that one of their cult members has been killed by members of the Black Axe cult group at 9th Mile expressway.
"They immediately took off to the location, with the second suspect, Chigozie Onoh (a.k.a Stone), where they shot dead a member of the Black Axe cult group."
He added that "full-scale investigation is on to further arrest other members if the cult groups involved in the clash and murder of the deceased persons and to recover their operational weapons."