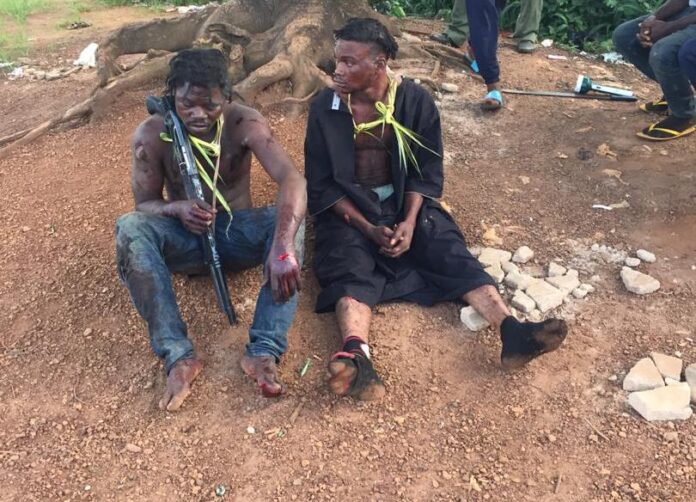 A 2-man gang that has been terrorising Owo Premier layout, Ogui Nike, at the back of Dunamis Church, Enugu North local government area met their Waterloo on Saturday, 25th July as they were rounded-up by youths of the area.
The gang is reportedly responsible for various crimes in the area including raping of women, stealing of phones, money and other valuables.
Luck ran out on them as a group of youths in the area that organized themselves to oversea the community of their area got a wind of their activity moved in and arrested them.
"The two of them were arrested last night as they were positioning to carry out another attack," one of the youths in the area told JOURNALIST101.
"They were arrested by group of boys that organised themselves last week Saturday to stop the incessant criminal activities in the area.
"One pump action riffle was recovered from them. They aren't even from Enugu. one said he's from Taraba state, the other one said he's from Benin but they operate from the New artisan market area," the young man who doesn't want his name in print told our correspondent.
The armed robbers and the weapon recovered from them has been handed over to Independence Layout division of Enugu Police command.
Journalist101 was reliably informed that the vigilante boys that arrested the hoodlums aren't the ones in the payroll of the LG as they have not been living up to expectations and this necessitated the formation of the security team by the youths in the area.