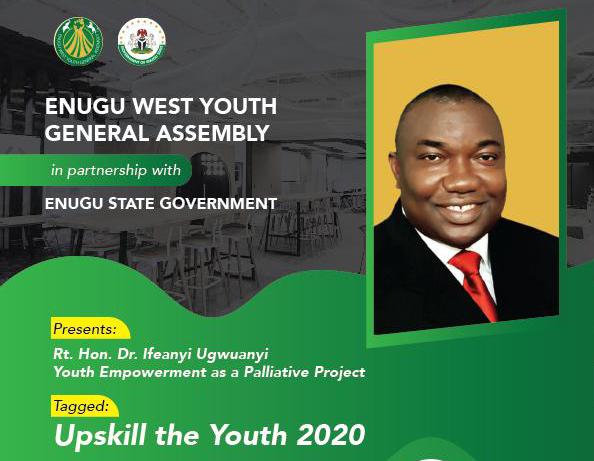 The unrelenting efforts of the Governor of Enugu state, Rt. Hon Ifeanyi Ugwuanyi to empower the youths of the state has given birth to another youth empowerment programme; "UPSKILL THE YOUTH" which will be done in partnership with Enugu West Youth General Assembly (EWYGA).
The programme will see to the training of 500 youths drawn from the five LGAs of Enugu West senatorial district on various skills bordering on Information and Communications Technology (ICT)
The President of EWYGA, Ambassador Elvis Obi-Nwankwo said the training programme resonates with the mission of the organisation; "to embolden the visions of the entire Enugu West Youth".
In a terse statement titled "YOUTH EMPOWERMENT/DEVELOPMENT WITH THE KINDRED SPIRIT", the youth leader said the process of the selection of the 500 beneficiaries will be based on their age-long fight "meritocracy", disclosing further that at least, one person from each kindred in the zone will have one beneficiary which they believe, will help reduce the poverty index substantially within the next 3 years.
Amb. Obi-Nwankwo also hinted that Aptech technologies- a platinum partner of Microsoft in Sub-Saharan Africa will be responsible for the training which will be in three categories. The training will last for 12 weeks.
Mid-level digital skills:
these include digital graphic design and marketing, content management systems, desktop publishing and social media management, both for job and entrepreneurship opportunities.
Soft skills:
complementary to technical skills, these are skills necessary for all professionals to ensure collaborative and effective work in the digital economy. They include leadership, communication, teamwork and client focus, amongst others.
Digital entrepreneurship skills:
digital skills required by entrepreneurs, including online market research, strategic planning and business analysis, using financing and crowd-funding platforms, online marketing, online networking and establishing mentoring relationships.
While access to technology is important, the mere availability of ICT does not always translate into its productive use.
He also pointed out that their choice of ICT is because of their understanding that: "The digital economy is rapidly transforming the employment landscape across industries including financial services, health, entertainment, transportation and, of course, information and communications technology.
"In developing countries like Nigeria, on average one-third of urban workers use digital technologies at work, while in many developed countries, digital skills permeate work environments to the extent that they have become almost necessary for employment.
Therefore to prepare Enugu West Youths for the future of work, we need to empower them with the skills they need to thrive," Amb. Obi-Nwankwo said.
The application portal will be open soon